Below is a list of significant events and films in underground film history between the years 1980 and 1989.
Reference key:
D.E.J.: David E. James. The Most Typical Avant-garde: History and Geography of Minor Cinemas in Los Angeles. Berkeley: University of California, 2005.
J.S.: Jack Sargeant. Deathtripping: the Extreme Underground. Brooklyn: Soft Skull, 2008. (Originally published: London: Creation, 1995.)
P.A.S.: P. Adams Sitney. Visionary Film: the American Avant-garde, 1943-2000. New York: Oxford UP, 2002.
S.M.: Scott MacDonald. Canyon Cinema: the Life and times of an Independent Film Distributor. Berkeley: University of California, 2008.
1980
Significant Films:
U.S.:
Kenneth Anger:
Lucifer Rising (DVD) (P.A.S.)
Beth and Scott B:
The Trap Door (starring Jack Smith) (J.S.)
Joe Coleman:
Raw Nerves: A Lacanian Thriller (1979/80) (with Manuel DeLanda) (J.S.)
Tessa Hughes-Freeland:
Every Master Taught a Different Way (J.S.)
Yvonne Rainer:
Journeys From Berlin/1971 (P.A.S.)
Nick Zedd:
The Bogus Man (J.S.)
1981
Major Events:
Nick Zedd meets Jack Smith and helps the performance artist paint his film set/apartment. (J.S.)
Tessa Hughes-Freeland moves from England to NYC to do a Masters Program in Cinema Studies. (J.S.)
Canyon Cinema stops publishing its popular Cinemanews magazine. (S.M.)
Significant Films:
U.S.:
Paul Tschinkel:
DNA at Irvng Plaza (J.S.)
1982
Major Events:
Nick Zedd's They Eat Scum is broadcast on Manhattan Cable Television's Channel C. The Wall Street Journal condemns the broadcast on its front page on Dec. 20. The headline reads: "Public Access TV in New York Tends Toward Sex, Sadism." (J.S.)
Significant Films:
U.S.:
Stan Brakhage:
The Arabic Numeral Series (1980-82) (P.A.S.)
The Roman Numeral Series (1979-81) (P.A.S.)
Julie Dash:
Illusions (D.E.J.)
Manuel DeLanda:
Harmful If Swallowed (J.S.)
Nathaniel Dorsky:
Hours for Jerome, Parts 1 and 2 (1980-82) (P.A.S.)
Su Friedrich:
Gently Down the Stream (P.A.S.)
Tessa Hughes-Freeland:
Baby Doll (J.S.)
Walking Film (J.S.)
Birthday Party (J.S.)
City Film (J.S.)
Relapse (J.S.)
Warren Sonbert:
Noblesse Oblige (1978-81) (P.A.S.)
Nick Zedd:
The Deprogramming (unmade, 1981) (J.S.)
1983
Major Events:
January: The Walker Art Center in Minneapolis, Minnesota, along with Media Study/Buffalo launch their touring film retrospective, "The American New Wave 1958-1967," at the U.S. Film and Video Festival in Park City, Utah. (Article)
February 28: A group of student experimental filmmakers meet at the School of the Art Institute of Chicago to form the Experimental Film Coalition. (Article)
Nick Zedd and Tessa Hughes-Freeland meet for the first time. (J.S.)
Significant Films:
U.S.:
Beth and Scott B:
Vortex (J.S.)
Robert Beavers:
Efpsychi (P.A.S.)
Manuel DeLanda:
Judgement Day (J.S.)
Nathaniel Dorsky:
Pneuma (1977-83) (P.A.S.)
17 Reasons Why (P.A.S.)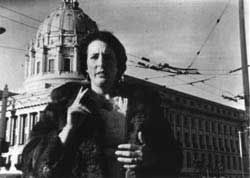 Tessa Hughes-Freeland:
Joker (J.S.)
Warren Sonbert:
A Woman's Touch (P.A.S.)
Ela Troyano:
The Bubble People (starring Jack Smith and Phoebe Legere) (J.S.)
Totem of the Depraved (co-directed by Nick Zedd; starring Nick Zedd, Phoebe Legere, Gia Gamba and James Richardson) (J.S.)
Nick Zedd:
Geek Maggot Bingo (co-produced by Donna Death; starring Zacherle, Donna Death, Richard Hell, Brenda Bergman) (J.S.)
The Wild World of Lydia Lunch (starring Nick Zedd and Lydia Lunch) (J.S.)
1984
Major Events:
Scott and Beth B break up and pursue separate careers. (J.S.)
Nick Zedd begins publishing The Underground Film Bulletin using the pseudonym Orion Jeriko. (J.S.)
The first annual New York Film Festival Downtown, founded by Tessa Hughes-Freeland and Ela Troyano, is held at Limbo. (J.S.)
Alf Bold, a curator or programmer at the Arsenal, comes to NYC to be the guest programmer for The Collective, an alternative film space on White Street. (J.S.)
Significant Films:
U.S.:
Beth B:
The Dominatrix Sleeps Tonight (music video for Dominatrix) (J.S.)
Scott B:
The Specialist (J.S.)
Stan Brakhage:
Tortured Dust (P.A.S.)
Morgan Fischer:
Standard Gauge (P.A.S.; D.E.J.)
Su Friedrich:
The Ties That Bind (P.A.S.)
Tessa Hughes-Freeland:
Play Boy (J.S.)
Graffiti Hall of Fame (J.S.)
Styx (J.S.)
Richard Kern:
Goodbye 42nd Street (1983/84) (starring Beth B) (J.S.)
Zombie Hunger (J.S.)
Zombie Hunger 2 (J.S.)
Blood Boy (completed, but half of it never used and the other half used for Submit to Me) (J.S.)
The Right Side of My Brain (J.S.)
Tommy Turner:
Simonland (filmed in part by Richard Kern; conceived with Jenny Holten; starring Tommy Turner and Nick Zedd) (J.S.)
Nick Zedd:
School of Shame (J.S.)
Thrust in Me (directed with Richard Kern) (J.S.)
1985
Major Events:
Nick Zedd, as Orion Jeriko, launches the Cinema of Transgression in issue #4 of his zine The Underground Film Bulletin by writing the movement's manifesto. (J.S.) (Article)
Significant Films:
U.S.:
Beth B:
I Need Someone (music video for Joan Jett and the Blackhearts) (J.S.)
Scott B:
Last Rights (J.S.)
Erotic Psyche (Bradley Eros and Aline Mare):
Mutable Fire (J.S.)
Ernie Gehr:
Signal — Germany on the Air (1982-85) (P.A.S.)
Tessa Hughes-Freeland:
Rhonda Goes to Hollywood (starring Rhonda Zwillinger) (J.S.)
Poppo at 8 B.C. Parts I–IV (1984/85) (J.S.)
Bildo Does Klein: Models in Blue (J.S.)
Richard Kern:
The Manhattan Love Suicides (includes the films Thrust in Me, Stray Dogs, Woman at the Wheel and I Hate You Now) (J.S.)
Stray Dogs (starring Bill Rice and David Wojnarowicz) (J.S.)
Woman at the Wheel (starring Nick Zedd) (J.S.)
I Hate You Now (starring Tommy and Amy Turner) (J.S.)
Submit to Me (starring Casandra Stark and Lung Leg) (J.S.)
You Killed Me First (starring Lung Leg, Karen Finley and David Wojnarowicz) (J.S.)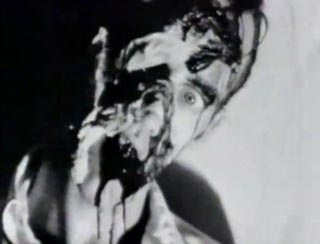 Lung Leg:
Worm Movie (J.S.)
Casandra Stark Mele:
Dead on My Arm (soundtrack by This Heat) (starring Casandra Stark and Lung Leg, credited as "Lisa alias Lung") (J.S.)
Tommy Turner:
Where Evil Dwells (co-directed by David Wojnarowicz; starring Scott Werner, Baby Gregor, Joe Coleman and Rockets Redglare) (J.S.)
Michael Wolfe:
Nigger Night (J.S.)
1986
Major Events:
October 20: Jeff Krulik and John Heyn premiere their underground documentary Heavy Metal Parking Lot at the d.c. space club in Washington, D.C. (Article)
Nick Zedd produces the compilation VHS tape The Cinema of Transgression Volume 1 featuring the work of Nick Zedd, Richard Kern, John Spencer, Lung Leg, Richard Klemann, Erotic Psyche (Bradley Eros and Aline Mare), Michael Wolfe and Manuel DeLanda. (J.S.)
Year of the 3rd New York Film Festival Downtown. Films include Pus by John Spencer. (J.S.)
Significant Films:
U.S.:
Stan Brakhage:
Confession (P.A.S.)
Ernie Gehr:
Reverberation (1969, revised 1986) (P.A.S.)
Untitled: Part One 1981 (revised 1986) (P.A.S.)
Tessa Hughes-Freeland:
Rat Trap (in collaboration with Tommy Turner) (J.S.)
Butthole Surfers (J.S.)
Richard Kern:
Death Valley 69 (music video for Sonic Youth and Lydia Lunch; starring Lung Leg) (J.S.)
Fingered (starring Lydia Lunch, Lung Leg and Marty Nations) (J.S.)
Pierce (starring Audrey Rose and Capt. Kirk) (J.S.)
Warren Sonbert:
The Cup and the Lip (P.A.S.)
Casandra Stark Mele:
Wrecked on Cannibal Island (starring Casandra Stark and Jack Natz)
Go to Hell (co-directed with Nick Zedd and David Rutsula)
Nick Zedd:
Go to Hell (a collaboration with David Rutsula and Cassandra Stark) (J.S.)
Kiss Me Goodbye (starring Nick Zedd and Angelique Anguish; music provied by Swans) (J.S.)
1987
Major Events:
May 3: Richard Kern screens The Evil Cameraman at the Ritz, where it's stopped after 45 seconds and the bouncers and management of the club threaten to beat Kern up for producing "kiddie porn." (J.S.)
Significant Films:
U.S.:
Beth B:
Salvation! (J.S.)
Abigail Child:
Is This What You Were Born For? (1981-87) (In seven parts: Prefaces, Both, Mutiny, Covert Action, Perils, Mayhem, Mercy) (P.A.S. says in six parts, but lists 7 titles)
Nathaniel Dorsky:
Alaya (1976-87) (P.A.S.)
Tessa Hughes-Freeland:
Jane Gone (J.S.)
Richard Kern:
Submit to Me Now (starring Nick Zedd and Casandra Stark)
The King of Sex (starring Nick Zedd and Rick Strange; soundtrack by Killdozer)
Nick Zedd:
Police State (starring Nick Zedd, Rockets Redglare, Willoughby Sharp) (J.S.)
1988
Major Events:
Richard Kern's Fingered screens at the Berlin Film Festival at the Zoo Atelier Cinema. The film was jeered while Kern gave the audience the finger. (J.S.)
Significant Films:
U.S.:
Charles Pinion:
Twisted Issues (J.S.)
Jim VanBebber:
Roadkill: The Last Days of John Martin (J.S.)
Nick Zedd:
Whoregasm (starring Nick Zedd, Susan Manson) (J.S.)
1989
Major Events:
Jack Smith dies due to AIDS-related illness in September. (J.S.)
Significant Films:
U.S.:
Peggy Awesh & Keith Sanborn:
The Deadman (P.A.S.)
Beth B:
Belladonna (co-directed with painter Ida Applebroog) (J.S.)
Thanatopsis (starring Lydia Lunch) (J.S.)
Stan Brakhage:
Faust (series) (1987-89) (Consisting of Faustfilm: An Opera, Faust's Other: An Idyll, Faust 3: Candida Albacore, Faust 4) (P.A.S.)
Pat O'Neill:
Water and Power (P.A.S.)
Jeri Cain Rossi:
Kill the Poor (J.S.)
Tessa Hughes-Freeland:
The Story of the Little Green Man (J.S.)
Philip B. Roth:
Boys/Life (S.M.)
Warren Sonbert:
Friendly Witness (P.A.S.)
Casandra Stark Mele:
We Are Not to Blame (starring Nick Zedd, Casandra Stark, Laura Mae Jessen and Richard Kern) (J.S.)