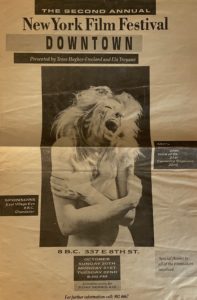 Filmmakers Tessa-Hughes Freeland and Ela Troyano founded the New York Film Festival Downtown in 1984. In the program for the second annual edition in 1985, they laid out the need for such an event:
"Most films made in this society fall into two categories: those financed and marketed commercially, and their counterparts in the arts and academic worlds. Most people are entirely unaware of filmmaking occurring outside these structures.

[…]

This hasn't stoped filmmakers in downtown New York from producing films without the help -- and interference -- of market and art-funding forces."
NYC's Lower East Side has been a fluctuating hotbed of avant-garde filmmaking since the early to mid 1950s. In the sixties, this became a full-on explosion of underground filmmaking that felt like it had a shot at garnering acceptance on a national, and even international, level.