Below is a list of significant events and films in underground film history between the years 1940 and 1949.
Reference key:
D.C: David Curtis. Experimental Cinema. New York: Dell Pub., 1978.
D.E.J.: David E. James. The Most Typical Avant-garde: History and Geography of Minor Cinemas in Los Angeles. Berkeley: University of California, 2005.
F.S.: Frank Stauffacher. Art in cinema; a symposium on the avantgarde film. New York: Arno Press, 1968. (reprint from 1947)
J.S.: Jack Sargeant. Deathtripping: the Extreme Underground. Brooklyn: Soft Skull, 2008. (Originally published: London: Creation, 1995.)
P.A.S.: P. Adams Sitney. Visionary Film: the American Avant-garde, 1943-2000. New York: Oxford UP, 2002.
S.R.: Sheldon Renan. An Introduction to the American Underground Film. New York: Dutton, 1967.
1940
Major Events:
October: May Ray arrives in Los Angeles after driving cross country from NYC. (D.E.J.)
Maya Deren goes on tour with professional dancer Katherine Dunham in hopes of writing a theoretical book on modern dance. However, that book was never written. (P.A.S.)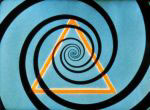 Significant Films:
U.S.:
Mary Ellen Bute:
Escape (S.R.)
Douglass Crockwell:
Fantasmagoria series (1938-40) (D.C.) (S.R. just lists Fantasmagoria I only — see 1938)
Oskar Fischinger:
An American March (for MGM; set to "Stars and Stripes" by John Philip Sousa) (D.C.) (S.R. lists as 1939)
Dwinnel Grant:
Themis (S.R.)
England:
Len Lye:
Musical Poster (S.R.)
1941
Major Events:
May Ray has show at Frank Perls Gallery on Sunset Boulevard. (D.E.J.)
Maya Deren arrives in Los Angeles with choreographer Katherine Dunham and her dance troupe whom she was working for as a publicity director. (D.E.J.)
Significant Films:
U.S.:
Kenneth Anger:
Who Has Been Rocking My Dream Boat? (S.R.; P.A.S.)
Mary Ellen Bute:
Tarantella (DVD1, DVD2) (S.R.)
Dwinnel Grant:
Contrathemis (S.R.)
Frances Lee:
1941 (S.R.)
Christopher Young:
Object Lesson (S.R.)
1942
Major Events:
Twin brothers George and Mike Kuchar are born in the Bronx. (J.S.)
Maya Deren and Alexander Hammid marry. (P.A.S.)
Salvador Dali publishes his first autobiography. (P.A.S.)
Significant Films:
U.S.:
Kenneth Anger:
Tinsel Tree (1941-42) (S.R.; D.C.; P.A.S.)
Prisoner of Mars (S.R.; P.A.S.)
John Hoffman & Slavko Vorkapich
Moods of the Sea (D.E.J.)
Mylon Meriam:
unnamed abstract films (1941-42) (S.R.)
Harry Smith:
Number 2 (1940-42) (S.R.)
1943
Major Events:
October 15: Man Ray has a screening of his films at the American Contemporary Gallery. (D.E.J.)
Surrealist cinema is revived in the U.S. (P.A.S.)
Significant Films:
U.S.: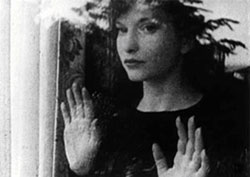 Kenneth Anger:
The Nest (S.R.; D.C.; P.A.S.)
Maya Deren:
Meshes of the Afternoon (DVD1, DVD2, DVD3) (S.R.; D.C.; F.S.; P.A.S.) (With Alexander Hammid)
Willard Maas:
Geography of the Body (photography by Marie Menken) (DVD) (S.R.) (D.C. credits film to Maas and Menken, too, but also credits as being made by the Gryphon Group and also partially involved Norman McLaren.) (P.A.S. says film is made with Marie Menken and poet George Barker)
Man Ray:
Juliet (D.E.J. says "around 1943")
John and James Whitney:
Variations (1941-43) (S.R.; D.C.)
Film Exercise 1 (S.R.)
(F.S. has a 1943 entry for the Whitneys listed as "First sound film")
France:
Alexandre Alexeieff (with Clair Parker, his wife):
En Passant (D.C.)
1944
Major Events:
After reediting documentaries for NYC's Museum of Modern Art for a few years, Luis Bunuel is fired over his Communist affiliations. He returns to Los Angeles afterward. (D.E.J.)
Salvador Dali visits Hollywood for a year where he creates the dream sequences for Alfred Hitchcock's Spellbound. (D.E.J.)
The book The Hollywood Hallucination by Parker Tyler is published. (D.E.J.)
Significant Films:
U.S.:
Kenneth Anger:
Escape Episode (sound version in 1946) (P.A.S.) (D.E.J.)
Maya Deren:
At Land (DVD) (S.R.; D.C.; F.S.; P.A.S.)
Gjon Mili:
Jammin' the Blues (F.S.) (WATCH)
Man Ray & Hans Richter:
View (D.E.J. says scenario written by Man Ray and shot by Hans Richter)
John and James Whitney:
Film Exercise 2
Film Exercise 3
Film Exercise 4
Film Exercise 5
(S.R.) (F.S. has three entries for the Whitneys in 1944 — they're listed as "Fragments," "Fourth film" (four sections), and "Fifth film")
1945
Major Events:
Maya Deren enters Meshes of the Afternoon into a competition hosted by the Amateur Cinema League and wins an Honorable Mention. (D.E.J.)
Man Ray has show at Julien Levy Gallery and a retrospective at the Los Angeles County Museum of Art. (D.E.J.)
Curtis Harrington transfers to the USC film program after beginning his studies at Occidental College. (D.E.J.)
Significant Films:
U.S.:
Kenneth Anger:
Drastic Demise (S.R.; P.A.S.)
Maya Deren:
A Study in Choreography for Camera (DVD) (S.R.; D.C.) (F.S. lists as a collaboration with Talley Beatty) (P.A.S. calls Beatty a "performer")
Dwinnel Grant:
Three Dimensional Experiments (S.R.)
Alexander Hammid:
The Private Life of a Cat (DVD) (S.M.)
Marie Menken:
Visual Variations on Noguchi (DVD 1, DVD 2) (S.R.; D.C.; P.A.S.)
1946
Major Events:
Maya Deren publishes monograph An Anagram of Ideas on Art Form and Film (Bookshop Press). (D.C.)
Maya Deren rents the Provincetown Playhouse on MacDougal Street, NY for a one-night show of her first 3 films. Repeat screenings were arranged immediately. (D.C.)
Maya Deren is the first female recipient of a Guggenheim Foundation grant. She used the money to travel to Haiti to film dances and rituals. (P.A.S.)
Sidney Peterson, James Broughton and two other people — one owned a small film company and the other had some money — gather in Peterson's living room to discuss making their first film together. They would shoot The Potted Psalm over the summer, although the money guy abandoned the project and the film company guy just lent equipment. (P.A.S.)
Jordan Belson graduates from the California School of Fine Arts. (P.A.S.)
Man Ray marries Juliet Browner. (D.E.J.)
Believing he'll never have a chance to make another film, Luis Bunuel leaves Los Angeles for Mexico.(D.E.J.)
Walt Disney asks Salvador Dali to create a six-minute animated segment for the compilation film Destino. Only a color test is shot before the whole project falls apart. (D.E.J.)
Gregory Markopoulos enrolls in the USC film program where he lives across the hall from Curtis Harrington. (D.E.J.)
Significant Films:
U.S.:
Kenneth Anger:
Escape Episode (silent version in 1944) (P.A.S.) (S.R. just lists as 1944-46)
Douglass Crockwell:
Glen Falls Sequence (S.R.; D.C.)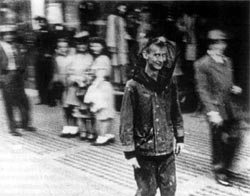 Maya Deren:
Ritual in Transfigured Time (DVD) (S.R.) (F.S. lists as 1945-46)
Curtis Harrington:
Fragment of Seeking (S.R.; P.A.S.; S.M.) (D.C. also credits Camera Assistant as Gregory J. Markopoulos) (D.E.J. notes Gregory Markopoulos "pushed the starter" on the camera)
Sidney Peterson and James Broughton:
The Potted Psalm (DVD) (S.R.; F.S.)
Hans Richter:
Dreams That Money Can Buy (scenarios by: Alexander Calder, Marcel Duchamp, Max Ernst, Fernand Léger and Man Ray) (S.R.; D.C.) (F.S. lists as 1944-46)
1947
Major Events:
April: A screening of the films of Maya Deren is held by the Experimental Film Society, a short-lived organization formed by Curtis Harrington and Kenneth Anger. (D.E.J.)
Frank Stauffacher and Richard Foster begin the "Art in Cinema" series of film screenings. The first season was accompanied by an Art in Cinema book, which includes mentions of Mary Ellen Bute, Maya Deren, Dwinell Grant, Douglass Crockwell, Hans Richter, John and James Whitney, James Broughton, Sidney Peterson and Oskar Fischinger. (S.R.; D.C.) (D.E.J. says Art in Cinema was launched in October of 1946)
Anais Nin meets Curtis Harrington and Kenneth Anger, noting that the pair were "devoted to [Jean] Cocteau and Maya Deren."
Significant Films:
U.S.:
Kenneth Anger:
Fireworks (DVD) (D.C.; P.A.S.) (S.R. also credits "assistant camerawork" to Chester Kessler)
Sarah Arledge:
Introspection (S.R.)
Jordan Belson:
Transmutation (S.R.; D.C.; P.A.S.)
Douglass Crockwell:
The Long Bodies (1946-47) (S.R.) (D.C. doesn't include "The" in the title)
John Hoffman & Slavko Vorkapich
Forest Murmurs (D.E.J.)
Robert Howard:
Meta (S.R.)
Francis Lee:
Le Bijou (S.R.)
Gregory Markopoulos:
Psyche (1947-48) (P.A.S.; S.M.) (S.R. lists as 1947-48)
Hal McCormick:
Suite #2 (S.R.)
Norman McLaren:
Fiddle-De-Dee (S.M.)
Sidney Peterson:
The Cage (DVD) (S.R.; S.M.) (D.C. credits "with Hy Hirsh") (P.A.S. credits Hy Hirsh as cameraman)
Horror Dream (S.R.) (D.C. credits "with Hy Hirsh")
Clinic of Stumble (S.R.) (D.C. credits "with Hy Hirsh")
Harry Smith:
Number 3 (1942-47) (DVD) (S.R.)
Joseph Vogel:
House of Cards (DVD)
All the News
(S.R.)
1948
Major Events:
Lewis Jacobs writes the essay "Experimental Cinema in America," which is published in Hollywood Quarterly 3.2 and is the first substantial history of avant garde filmmaking in the U.S. The article also favorably mentions Kenneth Anger's film Escape Episode. (D.E.J.)
Gregg Toland passes away. (D.E.J.)
Man Ray has show at the new Copley Galleries in Beverly Hills. (D.E.J.)
Significant Films:
U.S.:
Dorsey Alexander:
Life and Death of a Sphere (S.R.)
Kenneth Anger:
The Love That Whirls (intended to be feature-length — unfinished when laboratory destroyed "obscene" footage of Mexican rituals performed in the nude) (P.A.S.) (S.R. identifies lab as Kodak Laboratories and calls footage a "fake nude sacrifice")
Jordan Belson:
Improvisations #1 (S.R.; D.C.)
James Broughton:
Mother's Day (DVD) (S.R.; D.C.) (P.A.S. credits Frank Stauffacher as cameraman)
James Davis:
Light Reflections (S.R.)
Painting and Plastics (S.R.)
Shadows and Light Reflections (S.R.) (D.C. lists film as Light Reflections and Shadows)
Maya Deren:
Meditation on Violence (DVD1, DVD2) (S.R.; D.C.; P.A.S.)
Curtis Harrington:
Picnic (S.R.; D.C.; P.A.S.; S.M.; D.E.J.)
Hugo Latelin:
Color Designs #1 (S.R.)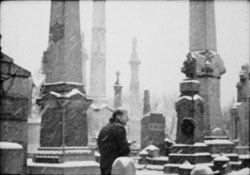 Francis Lee:
The Idyl (S.R.)
Willard Maas:
Images in the Snow (1943-48) (S.R.) (D.C. also credits as "assisted by Marie Menken")
Gregory Markopoulos:
The Dead Ones (S.R.) (D.E.J. says film is shot in early 1949, but that Markopoulos was forced to leave film at the lab until he could recover it in 1965)
Lysis (S.R.; S.M.)
Charmides (S.R.; S.M.)
(D.C. lists Lysis, Charmides and Psyche under one title: Du Sang de la Volupté et de la Mort)
Sidney Myers:
The Quiet One (S.R.) (S.M. lists with Janice Loeb)
Sidney Peterson:
The Petrified Dog (DVD) (S.R.)
Frank Stauffacher:
Sausilito
Zig Zag
(S.R.)
1949
Major Events:
Robert Breer graduates in painting from Stanford. (S.R.)
Ed Emshwiller graduates with a B.A. in Design from the University of Michigan. (S.R.)
Brussels Experimental Film Festival is held. (D.C.)
Curtis Harrington has an assessment of his mentor Josef von Sternberg, called "The Dangerous Compromise," published in the Hollywood Quarterly. He claims the filmmaker is the biggest influence of the American experimental film scene. (D.E.J.)
Creative Film Associates is a distribution company formed by Kenneth Anger and Curtis Harrington that offers for rental all of the films of the Los Angeles avant-garde: Films by Maya Deren, John Whitney, James Whitney, Anger and Harrington. (D.E.J.)
Significant Films:
U.S.:
Kenneth Anger:
Puce Moment (DVD) (D.C.; D.E.J.) (S.R. lists as 1948) (P.A.S. says film is but a fragment from the unfinished Puce Women)
Dorsey Alexander:
Dime Store (S.R.)
Oskar Fischinger:
Motion Painting No. 1 (S.R.; D.C.)
Curtis Harrington:
On the Edge (S.R.; D.C.; S.M.; D.E.J.)
Sidney Peterson:
Mr. Frenhofer and the Minotaur (S.R.)
The Lead Shoes (DVD) (S.R.; D.C.) (P.A.S. notes that film was conceptualized and made with students in a summer Workshop 20 program)
Roger Bruce Rogers:
Toccata Manhatta
Round Trip in Modern Art
(S.R.)
Leonard Tregillus and R. W. Luce:
Proem (S.R.)
John and James Whitney:
Five Abstract Film Exercises, Studies in Motion (D.C.)
John Whitney:
Mozart Rondo (1947-49)
Hot House (1947-49)
(S.R.)
France:
Dimitri Kirsanov:
Morte Moisson (D.C.)