Below is a list of significant events and films in underground film history between the years 1930 and 1939.
Reference key:
D.C: David Curtis. Experimental Cinema. New York: Dell Pub., 1978.
D.E.J.: David E. James. The Most Typical Avant-garde: History and Geography of Minor Cinemas in Los Angeles. Berkeley: University of California, 2005.
F.S.: Frank Stauffacher. Art in cinema; a symposium on the avantgarde film. New York: Arno Press, 1968. (reprint from 1947)
J.S.: Jack Sargeant. Deathtripping: the Extreme Underground. Brooklyn: Soft Skull, 2008. (Originally published: London: Creation, 1995.)
P.A.S.: P. Adams Sitney. Visionary Film: the American Avant-garde, 1943-2000. New York: Oxford UP, 2002.
S.M.: Scott MacDonald. Canyon Cinema: the Life and times of an Independent Film Distributor. Berkeley: University of California, 2008.
S.R.: Sheldon Renan. An Introduction to the American Underground Film. New York: Dutton, 1967.
1930
Major Events:
International Congress of Independent Film meets for a second time in Brussels, but the 'Internationale' is disbanded after most filmmakers choose to fight fascism instead. The European avant-garde pretty much ceases to exist. (S.R., D.C.)
When film switched to using sound, it became too cost prohibitive for experimental filmmakers to continue working. (S.R.)
"The Surrealist cinema largely disappeared after Bunuel's L'Age d'Or…" (P.A.S.)
Luis Bunuel visits Los Angeles for the first time. An MGM representative signs him to a $250 a month contract to "learn filmmaking." Bunuel quit after four months and returned to Spain. (D.E.J.)
Significant Films:
U.S.:
Jo Gercon and Hershell Louis:
The Story of a Nobody (S.R.)
Ralph Steiner:
Surf and Seaweed (D.C.) (S.R. lists as 1931)
Herman G. Weinberg:
Autumn Fire (DVD) (S.R.) (D.C. lists film twice: Once in 1930 and again in 1931)
Czechoslovakia:
Alexander Hammid:
Bezucelna Prochazka (Aimless Walk) (P.A.S.; D.E.J. only gives English title)
France:
Luis Buñuel:
L'Age d'Or (S.R.; P.A.S.)
Jean Cocteau:
Le Sang d'un Poète (The Blood of a Poet) (DVD) (S.R.; D.C.; F.S.; P.A.S.)
Eugene Deslaw:
La Nuit Electrique (S.R.; D.C.)
Germaine Dulac:
Theme et Variation (1927-30) (D.C.) (S.R. lists a film Rhythme et Variations as 1930, which may be this film, but D.C. also lists a Rhythme et Variations, with no year attached, in addition to Theme et Variation)
Germany:
Oskar Fischinger:
Study No. 6 (1929-30) (F.S.) (S.R. lists as 1929)
Study No. 12 (S.R.)
Hans Richter:
Alles dreht sich, Alles beweft sich (Everything Revolves, Everything Moves ) (D.C.)
Walter Ruttmann:
Die Melodie der Welt (Melody of the World) (includes brief animated sequence by Oskar Fischinger) (D.C.)
Holland:
Francis Brugière:
Light Rhythms (S.R.)
England:
Kenneth MacPherson:
Monkeys' Moon (S.R.)
Russia:
Dziga Vertov:
Enthusiasm (Donbass Symphony) (D.C.) (S.R. only credits this as Enthusiasm)
1931
Major Events:
The European avant-garde vanishes, as Paul Fejos and Robert Florey became mainstream directors, Slavko Vorkapich began specializing in montage sequences, Ralph Steiner moved into documentaries, and Gregg Toland shot Citizen Kane. (S.R.)
Significant Films:
U.S.:
Berthold Bartosch
L'Idée (D.C.)
Emlen Etting:
Oramunde (S.R.)
Ralph Steiner
Mechanical Principles (S.R.; D.C.) (DVD)
Charles Vidor:
The Bridge (D.E.J.)
Germany:
Oskar Fischinger:
Study No. 7 (F.S.)
Study No. 8 (c1931) (F.S.)
Colorature (S.R.) (F.S. lists as Coloratura)
Experiments in Hand Drawn Sound (D.C.)
England:
Kenneth MacPherson:
Borderline (starring Paul Robeson) (S.R.)
1932
Major Events:
Jack Smith is born in Columbus, OH. (J.S.)
Significant Films:
U.S.:
Emlen Etting:
Poem 8 (S.R.) (DVD)
Charles Vidor:
The Spy (1931-32) (D.C.) (S.R. lists as only 1932)
France:
Luis Buñuel:
Las Hurdes (Terre sans Pain) (D.C.)
Eugene Deslaw:
Marche des Machines (D.C.) (S.R. lists as 1928)
Moholy-Nagy:
Lightspeile (1928-32) (D.C.)
Jean Renoir:
Boudu (D.C.)
Germany:
Oskar Fischinger:
Study No. 11 (c1932) (F.S.)
1933
Major Events
B&W sound 16mm film stock is marketed. (D.C.)
John Flory"s Mr. Motorboat's Last Stand is awarded one of the Year's 10 Best by the Los Angeles Cinema Club, is named the Best Experimental Film of the Year by Movie Makers magazine and is distributed by the Museum of Modern Art. Flory also signs a 7-year contract with Paramount. (D.E.J.)
Significant Films:
U.S.:
John Flory and Theodore Huff:
Mr. Motorboat's Last Stand (S.R.) (D.E.J. credits film solely to John Flory, but "with assistance by" Theodore Huff and Priscilla Peck)
Lewis Jacobs:
Footnote to Fact (J.S.)
Dr. James Sibley Watson:
Lot in Sodom (written or co-directed with Melville Webber) (DVD 1, DVD 2) (D.C.; F.S.) (S.R. lists as 1934) (P.A.S. doesn't distinguish credits, just says by Watson & Webber)
France:
Dimitri Kirsanov:
Rapt (S.R.; D.C.)
Arrière Saison (S.R.)
Germany:
Oskar Fischinger:
Composition in Blue (S.R.; D.C.; F.S.)
Circle (S.R.; D.C.; F.S.)
Lotte Reiniger:
Carmen (F.S.)
1934
Major Events:
Color 16mm film stock is marketed. (D.C.)
Movie producers are forced to submit scripts to the Hays Office for approval, thus limiting the chance of experimentation in popular narrative filmmaking. (D.E.J.)
Significant Films:
U.S.:
Joseph Berne:
Dawn to Dawn (written by Seymour Stern) (S.R.)
Lewis Jacobs:
Synchronization (done with Joseph Schillinger and Mary Ellen Bute) (S.R.)
Ralph Steiner
Pie in the Sky (with Elia Kazan, Molly Day Thacher and Irving Lerner) (S.R.)
Orson Welles
The Hearts of Age (DVD) (D.E.J.)
France:
Alexandre Alexeieff (with Clair Parker, his wife):
Une Nuit sur le Mont Chauve (Night on the Bare Mountain) (D.C.)
Russia:
Dziga Vertov:
Three Songs of Lenin (D.C.) (S.R. credits as Three Songs About Lenin)
1935
Major Events:
Rudy Burckhardt moves to the U.S. from Switzerland. (S.R.)
Salvador Dali visits Hollywood and stays with Harpo Marx. The pair write a screenplay entitled "Giraffes on Horseback Salad." (D.E.J.)
Maya Deren earns a bachelor's degree at New York University (NYU). (D.E.J.)
A young Kenneth Anger appears in the film A Midsummer Night's Dream. (D.E.J.)
Significant Films:
England:
Len Lye:
Colour Box (S.R.; D.C.; P.A.S.)
Kaleidoscope (S.R.) (P.A.S. lists as 1936)
Jean Renoir:
Toni (D.C.)
France:
Alexandre Alexeieff (with Clair Parker, his wife):
La Belle au Bois Dormant (D.C.)
1936
Major Events:
The Museum of Modern Art in NYC begins distributing a range of films, supplying them to theaters and screening series such as Amos and Marcia Vogel's Cinema 16 in NYC and Frank Stauffacher's Art in Cinema series in San Francisco. (S.M.) (S.R. says MoMA began its distribution efforts in 1937.)
Significant Films:
U.S.:
Mary Ellen Bute:
Rhythm in Light (S.R.; D.C.; F.S.) (S.M. credits film to Bute, Ted Nemeth & Melville F. Webber)
Anitra's Dance (D.C.)
Synchrony No. 2 (S.R.)
Oskar Fischinger:
Allegretto (S.R.; D.C.; F.S.)
Basil Wright:
Song of Ceylon (S.M.)
England:
Len Lye:
Birth of a Robot (1935-36) (D.C.) (S.R. credits as The Birth of the Robot and lists only as 1936)
Rainbow Dance (S.R.; D.C.; P.A.S.)
Trade Tattoo (P.A.S.)
France:
Jean Renoir:
Les Bas Fonds (D.C.)
1937
Major Events:
The Amateur Cinema Leauge has two-hundred-fifty amateur-cinema clubs on its rolls. (S.M.)
Significant Films:
U.S.:
Roger Barlow, LeRoy Robbins, Harry Hay and Hy Hirsch:
Even as You and I (DVD) (S.R.)
England:
Len Lye:
Trade Tatoo (S.R.)
France:
Jean Renoir:
La Grande Illusion (D.C.)
1938
Major Events:
Luis Bunuel is ordered back to Los Angeles to "work on a film about Spanish children being taken abroad to safety" and other movies about the Spanish Civil War. (D.E.J.)
Maya Deren enrolls in the M.A. program in English at Smith College. (D.E.J.)
Significant Films:
U.S.:
Mary Ellen Bute:
Parabola (S.R.) (DVD)
Douglass Crockwell:
Fantasmagoria I (S.R.) (D.C. just lists Fantasmagoria by its series, not individual films — see 1940)
Oskar Fischinger:
Optical Poem (1937-8) (for MGM; set to Liszt) (D.C.) (S.R. lists as just 1937) (DVD)
1939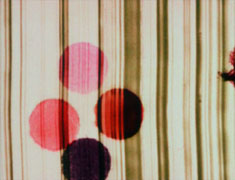 Significant Films:
U.S.:
Emlen Etting:
Laureate (S.R.)
Oskar Fischinger:
An American March (F.S.)
Harry Smith:
Number 1 (S.R.)
Ralph Steiner & Willard Van Dyke:
The City (F.S.; S.M.)
England:
Len Lye:
Swinging the Lambeth Walk (S.R.; D.C.)