The Strip Cult To Terrorize Austin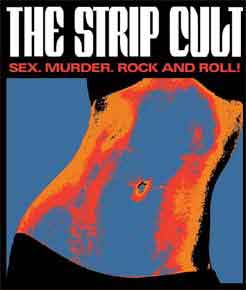 The Strip Cult, a psychedelic stage musical about Charles Manson written by filmmaker Mike Z and put on with Austin Underground Film Festival director Andy Gately, is playing around Austin, TX to rave reviews. The next performance will be at Ruta Maya on Thursday June 19 at 9:30 p.m. Here's what the Onion had to say about the first performance:
For all its flower power sentiments, the psychedelic '60s had their dark side, just as LSD offers the 50/50 promise of oneness with the universe or a soul-shattering bad trip. Fully embracing the brown acid, rock opera The Strip Cult plants its go-go boots firmly in the era's seedy side, telling the Manson-inspired story of a wannabe ingénue corrupted by a drug-crazed serial killer. Ablaze with fuzz-laden grooves and liquid light, The Strip Cult is like a Kenneth Anger film come to life: Lost souls shake, rattle, and roll toward a violent end, exposing the dangerous nihilism behind "free love." An opening set from Cavedweller causes the kundalini creeps with stark psych-blues, while Hacienda's layered pop harmonies provide a smooth comedown.
From what I've read and seen/heard (Z provided me with some of the music), the show sounds like it's a ton of fun. I'm already a huge fan of Z's hoax filmmaking, as I've recounted numerous times, and this seems to be a successful, trippy addition outside his normal artistic arena, which I hope to see some version at some point. If you're in Austin, check out the live show and, for a preview, you can watch performances from the show on June 17 at 10 p.m. on PACT Channel 10.
More info can be found on the Strip Cult's MySpace page. And below you can see some groovy pictures from the show's first performance: