Proxima Lands In Detroit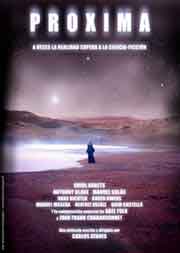 If I haven't made it clear yet, I'm a huge fan of Spanish surrealist filmmaker Carlos Atanes. His latest film, the sci-fi themed Proxima, will be screening on Wednesday June 18 at 6:00 p.m. at the Planet Ant Film & Video Festival in Detroit.
I reviewed Proxima just a few weeks ago. Here's an excerpt from the review:
Right off the bat, we meet Tony (Oriol Aubets), a lovable loser type who, despite a great passion for all things sci-fi, can't transform that passion into a career. Despite an investment from his girlfriend Natalia's (Karen Owens) father, he's forced to close up his sci-fi-themed video store. Although Tony can't get his act together, he's never presented as a pathetic character. He may make some mistakes, but he's the kind of guy — particularly as played by the earnest and sincere Aubets — you're rooting for things to start going his way.
It's a low-key sci-fi film with Atanes' typical mind-twisting flair for plotting, an exhilarating use of great locations and creative no-budget special effects. For those who can't make it to Detroit for the screening, the film will be available on DVD later this month. I've also embedded the trailer below.
As far as the Planet Ant Film & Video Festival goes, this is the first I've come into contact with it. June 18 is the opening night and it'll run through Saturday the 21st. Looking over the lineup, I'm not familiar with any of the films or filmmakers that are screening, but it looks like a real eclectic mix of indie features and shorts.
You can find out more about the festival at either their B-Side festival page or their MySpace page. Also, Proxima has a website, as does director Carlos Atanes. Here's the trailer: