Photo Gallery: Jeff Krulik Retrospective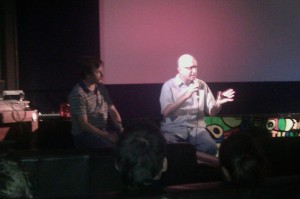 Included in this post is a trio of (blurry) photos taken at the Jeff Krulik retrospective that was held at the Cinefamily theater in Los Angeles on August 26, 2012 as part of the Everything Is Festival III: The Domination event. Click each photo to embiggen.
The first photo features Krulik himself in the Cinefamily audience while his cult classic documentary Heavy Metal Parking Lot, which he co-directed with John Heyn, screens in front of him. (By the way, depicted on the screen happens to be the Underground Film Journal's favorite "character" from the film due his slurred delivery of the line, "Yo, Priest is the best, man.")
The second photo is of Mike Plante and Jeff Krulik. Plante interviewed Krulik between the short films, which included HMPL; the Michael Jackson episode of the long-lost "Parking Lot" TV show that was inspired by HMPL and ran on the cable channel Trio for two seasons; the always wonderful Ernest Borgnine on the Bus. Plus, there was a screening of the crazy turkey short film by Chuck Statler, which inspired Krulik to become a filmmaker; as well as other video weirdness.
The third photo is of Krulk and Jay, one of the "stars" of HMPL, who went from being a teenage Judas Priest fan from Reston, Virginia to actually working in the music industry out here in Los Angeles. Jay shared with the audience how he first acquired a copy of HMPL from Thurston Moore after hearing rumors about the film and suspecting that he might be in it, albeit briefly.
It was a great, fun show!