One Week Only: Watch Attackazoids, Deploy!!
There's a hot new sci-fi film that starts with the letter "A" that you can see beginning today — and I don't mean Avatar! Filmmaker Brian Lonano has uploaded the second chapter of his giant killer robot series today: Attackazoids, Deploy!! That's it embedded above, but you can only watch it this week only. On Christmas Day, it's comin' down. It's like Santa bringing you an early gift, then the Grinch evilly snatching it away under St. Nick's nose.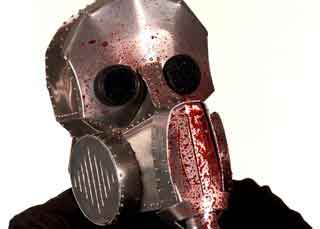 I reviewed the film on the Underground Film Journal a couple months ago — loved it, of course — and since then it's been terrorizing the film festival scene just like its predecessor did. Lonano has crafted a fun, violent little universe here where giant, laser-wielding robots blast and stamp out any and all puny humans who get in their way.
Lonano has also re-cut his original Attackazoids! film. This one's staying online permanently and you can watch that below. Unity will prevail!