Movie Review: The Man We Want To Anger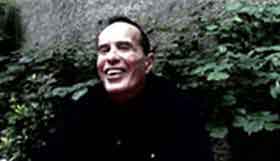 According to Kenneth Anger himself, there are two consistent themes running through his body of work: Suicide and optimism.
The Man We Want to Anger by Montreal-based avant-garde filmmaking entity Ca Ca Ca is not a traditionally structured documentary about the pioneering underground filmmaker, although it does include a couple of choice moments in which Anger speaks lucidly about his influences and motivations. Subtitled "Kenneth Anger, Aleister Crowley, Cinema, Magick & The Occult," the film explores Anger's connection to the famed spiritualist's philosophies and puts those same connections into practice.
Filmed in Paris in 2008 at a simultaneous showing of Crowley's artwork and a retrospective of Anger's underground films at the Palais de Tokyo, there is little historical background given on either of these two men. There is no clear recycling of either's respective careers. What we learn of Aleister Crowley is that he was a spiritualist who turned to painting later in life as both a career rejuvenating move and to work out new ideas regarding his teachings.
Through his art, Crowley explored the connection between painting and viewer. As one Crowley expert points out, the subjects in his paintings are caught in ritualistic poses — with ritual being key in the creation of magick — so that the figures are literally speaking to the viewer who can then theoretically interact with those figures. (Actually, in several paintings featured in the film, Crowley's figures are raising their middle finger to the viewer, but I don't know if that meant then what it means today.)
Applying that to cinema, Anger's films in return are very ritualistic in nature. The most famous example being the suiting up of biker garb and the explosion of Walpurgis Night celebration in Scorpio Rising. Going even further, though, Anger believes that the projection of light needed for cinema is a ritual that summons Lucifer. But this is not the commonly assumed dark Satanic figure, but a Lucifer who is a solar, light-bringing spiritual entity.
Anger describes himself as being mostly retired from the occult these days, although he still seems to enjoy discussing it. It is a little disconcerting to see, as the film opens, the former high priest of occult cinema wandering the streets of Paris wearing a Rangers hockey jersey with the first "R" and the last "s" conveniently left off. It cuts a humorous, if somewhat banal figure.
So, it's up to a new generation to carry on Crowley and Anger's esoterism and CA CA CA seems to step ably into that void. One interesting concern his film raises is the idea that the "cinema" of Anger's heyday, the '60s, is dying. For example, where is the light-bringing ritual of my own viewing of The Man We Want to Anger since nothing was "projected"? (I watched it on my computer monitor.) Although people still go to the theater to watch film, most people see "films" these days at home on their TV. The living room "entertainment center" is like an altar, but with no projection is Lucifer still being summoned in our homes?
CA CA CA addresses this issue in the way he re-presents Anger's films. The Man We Want to Anger is split into two parts: "Die Liebe," which focuses mainly on Anger's Invocation of My Demon Brother; and "Das Leben," which focuses more on the recent Ich Will. Large segments of these two Anger films, and many more, are incorporated into the documentary. But rather than using crisp excerpts, CA CA CA has captured degraded video projections of these films. One can clearly see the video-captured-on-video striations that results from such a method. Thus the "light" from Anger's original work has been caught and transferred through several mediums before it has reached the viewer.
In "Die Liebe," Invocation of My Demon Brother is more practically dissected and analyzed than Ich Will is in "Das Leben." In the first half, Anger talks explicitly about the difference between Crowley's Lucifer of the light and the dark Lucifer worshipped by his friend, Anton LaVey, who appears in Invocation.
Ich Will is Anger's re-contextualizing of images of Hitler's Youth. Clearly, Anger is drawn to the ritual of Nazi parade functions. But, after just a brief discussion of the film, CA CA CA goes on an epic merging of sequences from Ich Will with innocuous video of Pasadena's Rose Parade as well as repeated images from other Anger films, like Lucifer Rising. These images are layered upon and dissolved into each other into an orgy of ritualized performance.
The Man We Want to Anger comes riding in perfectly on the wave of renewed fascination with Kenneth Anger and Aleister Crowley, a bit more on an advanced level since the documentary skips over their detailed history and gets right into the analysis of their work. But underground filmmaking could use a good jolt of, maybe not the occult specifically, but at least a dose of spiritualism, something that was heavily present in the '60s and is missing largely from today's work. For spiritualism to bubble back up through the underground to infect the mainstream, The Man We Want to Anger is a bold ray of light to engender that comeback.