Messiah Freak Takeover Of Toronto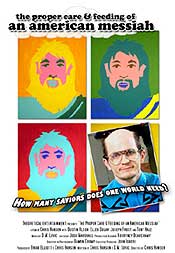 The juggernaut that is The Proper Care & Feeding of an American Messiah continues its complete domination of North America with a screening at the ReelHeART International Film Festival in Toronto. The festival will run this June 16-21, so it's too early to get an exact screening date and time, but that info will come eventually. Director Chris Hansen will actually be the star of the fest since ReelHeART will also be screening his new film Clean Freak. Well, he should be the star of the fest because these are two really fun films and worth seeing with an audience. You can of course check out the Underground Film Journal's reviews of the films here: American Messiah and Clean Freak.
P.S. Now that I look at this blog post's title, I think Chris should do a follow-up "combo" film and call it Messiah Freak. There's a film screaming to be made out of that title.