Kino21: Pink Wiz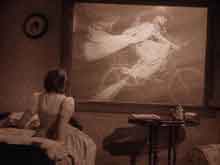 You know how you always hear that rumor that if you synchronize the playing of the 1939 film The Wizard of Oz and the Pink Floyd album Dark Side of the Moon, the record actually becomes an alternate soundtrack to the movie?
Well, if you're in San Francisco on Sunday Aug. 24 and you go to the corner of 16th and Florida at 8:00 p.m., you'll get to find out if the rumor is true, courtesy of the Kino21 screening series. This is a free outdoor screening, so bring a blanket — or maybe two: one for underneath and one for on top.
Also, for this so-called "Pink Wiz" screening, three original songs will be left intact: "Somewhere Over the Rainbow," "Ding Dong the Witch Is Dead" and "The Courage Song." And if you want to learn more about the connection between record and movie, you can read this informative article that pretty much debunks that Pink Floyd intentionally meant for their music to be played along with the film.
Aug. 21
8:00 p.m.
"Pink Wiz"
Presented by Kino21
The corner of 16th and Florida