Stripper Cults And Strange Girls In Austin
Oct. 16
9:30 p.m.: The Strip Cult
Ruta Maya
3601 South Congress
It's time to lock up your daughters! Seriously, read here at how panicked parents react when their daughter tells them she's going to see a tribute to Charles Manson. But Mike Z's The Strip Cult is descending on Ruta Maya again to terrorize audiences in a wild performance of trippy psychedelic visuals, half-naked gyrating chicks and the messiah of death direct from Spahn Ranch. I haven't seen the show live myself, but the videos are wondrous to behold. Check out the above embedded one, then go get groovy with Charlie and his girls. And it's good to know that there are some things in this world that cause parents to bug out in horrified fright.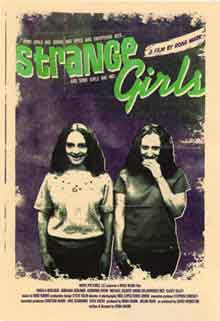 Oct. 18
10:00 p.m.: Strange Girls
Alamo Drafthouse: Lake Creek
13729 Research Blvd.
Then, if your heart can take it, go see Rona Mark's deliriously sadistic flick about the creepiest twin girls ever to haunt the streets of Pittsburgh — or any other major American city. This is a striking and strong feature debut and one of the top movies I've seen this year. Mark seems poised to be another major filmmaking talent to come out of Steel City after George Romero and Peggy Ahwesh. The film is screening as a part of the Austin Film Festival, which starts tomorrow. Plus, it repeats at the same location on Tuesday 10/21 at 7:30 p.m. (P.S. Yes, Strange Girls is also playing at the Spooky Movie Film Festival in Washington, D.C. on Sunday.)