Henry Hills: Money And Little Lieutenant
It's two great experimental films for the price of one! Roulette TV devotes an episode of their online program to the work of filmmaker Henry Hills. The above embedded video includes the 1985 film Money, then the 1994 film Little Lieutenant and finally a brief interview with Hills himself primarily discussing his editing technique. And, after watching the films, that's exactly what you're going to want to hear him talk about the most, particularly the intricate way he cut together the magnificent Money.
Hills' work is particularly fascinating in the way that it combines several different experimental film traditions. Money includes elements of the dance film, the playfulness of the NYC Lower East Side (LES) style of filmmaking and a bit of structuralism. However, listening to the interview, it sounds like Hills approach to structure is more intuitive than based on mathematical concepts. Then, Little Lieutenant is primarily a dance film, but also incorporates found footage and, again, has a playfulness while tackling a serious subject.
Money was completed just as No Wave Cinema was fading out and the Cinema of Transgression had been declared in the LES; and its style is a bit too formulist to have fit into either of those movements. Hills had been making films since 1975, some of which focused specifically on other NYC avant-garde filmmakers. 1976's George is a portrait of George Kuchar while 1981's Plagiarism is an attempt to make an Ernie Gehr-style film, which Hills says was "a major preoccupation of my generation in the late '70s/early '80s."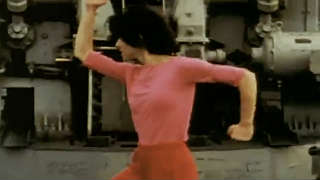 One of Money's key components is its recording of NYC's improvised music scene, including cut-up performances by John Zorn, Track & Field, Toy Killers and Skeleton Crew. This is somewhat ironic given the film's controlled audible melody made by specifically constructing bits of dialogue from several speakers, the automatic noise generated by the sound and film syncing up during shooting, street noises and the performances by the musicians themselves.
While a casual viewing of the film may lead one to think it's randomly construction, if one actually gets into the rhythm, one can pick out the ranting about avant-garde artists' lack of money that Hills is trying to say using other people's actual words. Hills has even published a book on the film that includes the complete text, along with film stills, notebook pages and more that if you're lucky you can get on Amazon right now.
Little Lieutenant also features music by John Zorn, using his arrangement of the song "Little Lieutenant of the Loving God." This film isn't as rapid-fire as Money, but still shows off an intricate editing style. Sometimes the action cuts between shots seamlessly to form a complete scene, while other edits seem to be based around something other than showing continuous dance moves of the performers.
Also, the found footage in Little Lieutenant is incorporated into the film both as a backdrop to the dancers as well as cuts to full action. This creates a disorienting effect where it sometimes appear that the dancers are literally bursting out of the found footage to dance live on the stage. (Some of that footage was appropriated from the Walter Ruttman's 1927 avant-garde film Berlin, the Symphony of a Great City.)
Hills gives just about equal credit for Little Lieutenant to his two main collaborators on the movie: Composer John Zorn and choreographer Sally Silvers, who receives an on-screen co-director credit. Little Lieutenant screened at the 1994 Onion City Film Festival.
The interview that concludes the Roulette TV piece is a bit stilted and awkward, but still genuinely interesting and insightful. But to learn even more about Hills, visit his official website and his page on PennSound, which has several other of his films embedded on it.
Although Roulette did devote an episode to Hills, they are a promotional vehicle for experimental musicians, although they do have some other pieces on filmmakers. You can view their videos on Vimeo or check out their official site.