Full Film Online: Treevenge
It was the hit of the 2009 film festival circuit: The hilarious and awesome Treevenge, directed by Jason Eisener. It's also the first ever successful Christmas-themed horror movie, but instead of going the usual route of making Santa a murderous psychopath, Eisner fully fleshes out the utterly original idea of Christmas trees taking revenge for their annual, ritual humiliation at the hands of humans. A word of warning, though: When the going gets gory, the film becomes downright disgusting.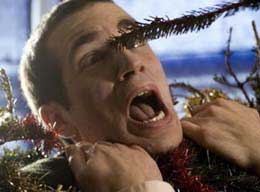 However, the gore is so way over-the-top that it's played for laughs and fits in with the exaggerated tone that Eisner sets up right from the get go. Plus, while it's clear that some real production value went into this film, it also has a great script and manages to really make the trees' situation terrifying and sad. That's not an easy feat when the only way to give a tree a "personality" is to wave their branches around and slap up some subtitles. But you really do end up empathizing with their plight.
Treevenge won the 2009 Best of Fest Short Film at the Boston Underground Film Festival, and played at the Calgary and the Lausanne Underground Film Festivals the same year. The film was also a hit at above ground festivals, such as the Toronto After Dark Festival, Fantastic Fest, the San Francisco Independent Film Festival and even scored an Honorable Mention at the Sundance Film Festival.
Next up for Eisener is the feature film Hobo With a Shotgun starring Rutger Hauer. The film is based on a fake trailer that Eisener made for a SXSW contest in connection with the film Grindhouse. The fake "Hobo With a Shotgun" trailer was the winning entry. As a bonus, I've embedded the original fake trailer below: