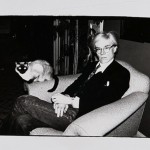 Are you a filmmaker — underground or otherwise — who adores your cat companion? If so, please use the contact form below to get in touch with us about sending a photo or short video for promotion on the Underground Film Journal.
All submitted photos and/or videos must include yourself with your cat.
All accepted submissions will get it's own blog post, and get included in our Filmmakers and Their Cats gallery. Please include with your submission any or all links to your films or whatever you would like to promote that will be included in the blog.
(If you are not a filmmaker, but work in the film industry — e.g. film festival programmer or actor — we will consider those submissions, too.)
Thank you.
(P.S. Contact form will not take an attachment. Please use the form below to tell us about you and your cat, then we will let you know where you can email the actual photo.)