Filmmaker Clint Enns And Mia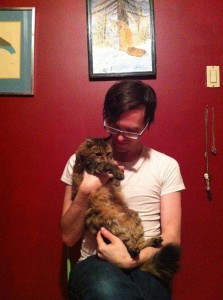 Clint Enns says:
Mia and myself hanging out in our house!
!!!
Underground Film Journal says:
Clint Enns may be a man of few words — at least when he sent in his cat photo — but he is not a man of few filmmaking talents. Originally from Winnipeg and currently based in Toronto, Clint is an incredibly prolific and gifted filmmaker. He is as talented as his filmography is long, creating remixed media like Spider-Man vs. Macrovision; original live action shorts like Back + Forth; and highly innovative experimental pieces such as The Death of Natural Language.
He's also a wonderful still photographer.
More Cats: View our entire gallery of Filmmakers and Their Cats!
Submit: If you're a filmmaker and you love your cat companion, please send us a photo of you with your kitty.