Filmmaker Bob Moricz And Auggie And Anton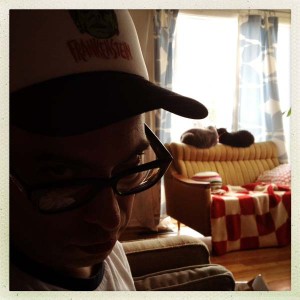 Bob Moricz says: Here is a photo my wife Irina took of me and our two lovely cats. Auggie is on the left and Anton on the right. Anton is  named for Anton LaVey for his devilish hair tufts on his ears, making him look like he has horns. He's also pretty devilish by nature.
Underground Film Journal says: Bob Moricz is an incredibly prolific underground filmmaker based in Portland, Oregon. Bob makes down and dirty pictures, runnin' and gunnin' in a dizzying tailspin of cinematic madness, just like his mentor George Kuchar taught him.
We first noticed him via his disturbing short film Slut Shack and have grown to love his work, which includes the controversial teen pregnancy drama Bumps, the tale of disorderly madness Felony Flats and the web series Overdose in the Hospital of Love.
Bob's work is challenging, thought-provoking, provocative and damn good fun. One day the world will catch up to the genius that is… Bob Moricz.
Submit: If you're a filmmaker and you love your cat companion, please send us a photo of you with your kitty.
More Cats: View our entire gallery of Filmmakers and Their Cats!