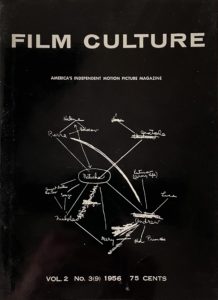 Published: 1956; 32 pages
Editor in Chief and Publisher: Jonas Mekas. Editors: Edouard de Laurot, George N. Fenin, Adolfas Mekas. Associate Editors: Eugene Archer, Louis Brigante, Arlene Croce, Andrew George Sarris.
Foreign Correspondents: Guido Aristarco, Italy; Francis Bolen, Belgium; Jaroslav Broz, Czechoslovakia; Jose Clemente, Spain; Lotte H. Eisner, France; Eugenio Hintz, Uruguay; Enno Patalas, West Germany; Tony Richardson, England.
Copyright, 1956 by FILM CULTURE. The opinions expressed by the contributors do not necessarily represent those of the editors. Printed in the U.S.A.
Publisher's Printing Representative
HARRY GANTT, 360 Cabrini Blvd., New York 40, N. Y.
ON THE COVER: One of King Vidor's diagrams of character relationships in War and Peace.
Contents
1. The Oral Tradition, The Written Word, And The Screen Image, David Riesman
2. The American Documentary — Limitatins and Possibilities, an interview with Willard Van Dyke by Jonas Mekas and Edouard Laurot
3. Terminal "Zero" — Germany's Latest Experimental Film, Enno Patalas
4. Citizen Kane: The American Baroque, Andrew Sarris
5. Cameraman in the Golden Age of Cinema, Curtis Courant
6. The Films of Lotte Reiniger
7. The Cinema in Cuba, Nestor Almendros
8. More on Metaphysics of "Ordet", Guido Aristarco
9. Coffee, Brandy and Cigars (XXIII), Herman G. Weinberg
10. Il Tetto (The Roof), Guido Aristarco
11. Storm Center, George N. Fenin
12. The Proud and the Beautiful, Eugene Archer
13. Confidential Report (Mr. Arkadin), Herman G. Weinberg
14. Somebody Up There Likes Me, Eugene Archer
15. The Killing, Arlene Croce
16. Cinema 16 — New Season
17. Books. Letters.
Index of Images
Willard Van Dyke (Photograph by Edward Weston)
Cabos Blancos, the latest film by Willard Van Dyke made for the Division of Community Education, Puerto Rico.
Nicht mehr fliehen
Ferry Radax in An diesen Abenden
Herbert Vesely and Xenia Hagman on location in Spain for Nicht mehr fliehen
Curtis Courant (at the camera) and Fritz Lang, during the shooting of Frau im Mond (1928). (Photo: Fritz Lang Films G.M.B.H.)
The Gallant Little Tailor
(4 unlabelled film stills; assumed to be of the films reviewed on the previous few pages)
The Flowers of St. Francis
Pleasure Garden
Love in the City
Advertisements
Brandon Films: Films for Film Societies
Contemporary Films, Inc.
Kinesis, Incorporated
Cinema Nuovo
Contemporary Films (promoting Autumn Fire by Herman G. Weinberg)
Cinema 16: 10th Anniversary Season