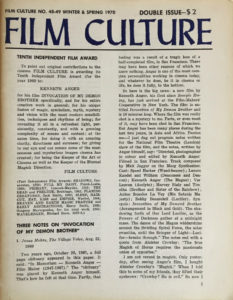 Published: Winter & Spring 1970; 88 pages
Publisher: Film Culture Non-Profit Corporation. Editor-in-Chief: Jonas Mekas. Assistant Editor: P. Adams Sitney. Business Manager: David C. Stone
Copyright 1970 by Film Culture. Printed in the U.S.A. Distributed by B. De Boer, Nutley, N.J.
Contents
1. Tenth Independent Film Award (Kenneth Anger)
2. Three Notes on "Invocation of My Demon Brother," by Jonas Mekas, Richard Whitehall and P. Adams Sitney
3. Hollis Frampton Interviewed, by Michael Snow
4. The Cosmic Cinema of Jordan Belson, by Gene Youngblood
5. Blank Deflections: Golden Cinema, by Paul Sharits
6. A Note on "The Count of Days," a Film by Robert Beavers, by Tom S. Chomont
7. Robert Nelson on Robert Nelson
8. Two Films by Ron Rice, by Fred Camper
9. Yoko Ono on Yoko Ono
10. "The Future Is Not What It Used to Be," by Stan Vanderbeek
11. Re: Look Computerized Graphics by Stan Vanderbeek
12. A Letter to Lenny Lipton, by Stan Vanderbeek
13. The Synthesis of Artificial Movements in Motion Picture Projection, by Alexander Alexieff
14. Filmography of Alexeiff
15. The Social Gospel of St. Jean-Luc Godard, by Dan Isaac
16. Anna Karina, by David Ehrenstein
17. 2001, by Max Kozloff
18. Some Recent Bergman, by Kirk Bond
19. An Interview about Georges Melies, by Maxine Haleff
20. The Art Film in India. Report on Mrinal Sen, by Forrest Williams
21. Thunder Over Mexico (poster, text)
22. To Upton Sinclair (poster, text)
23. Thunder Over Mexico, a review by Pare Lorentz (1933)
24. The Art of Moving Photography. A reprint from The Photographic Times, October, 1897
25. Coffee, Brandy and Cigars, by Herman G. Weinberg
Index of Images
Kenneth Anger during the shooting of "Invocation of My Demon Brother," 1969
Jordan Belson, "Samadhi," 1967
Stan Vanderbeek's "Found Forms," a multi-projection film performance at Cross Talk Intermedia Festival, Tokyo, February 1969
Robert Nelson and Gunvor Nelson, 1963 (photo by Bill Menken)
Gregory Markopoulos during the shooting of "Der Schachtel," April 1968
Robert Beavers
Gregory Markopoulos in Robert Beavers' film "Winged Dialogue"
Scenes (strips) from Barry Spinello's film "Soundtrack"
Hollis Frampton outside the old Edison Biograph theater, N. Halsted, Chicago, where Dillinger was shot
Mrinal Sen
Georges Méliès
From Méliès
Méliès studio
"Le Voyage de Mr. Bourrichon"
"Le Petit Chaperon Rouge"
"Le Danseuse Microscopique"
"Le Mèlomane"
From Méliès
Advertisements
New Cinema Review
The only monthly magazine devoted exclusively to reviews of independent — avantgarde/student/experimental/underground — films. The only place to find out about the films that aren't being reviewed elsewhere, or find reviews from other parts of the country that you're not likely to come across otherwise. In addition: Interviews with filmmakers, the Cinescene Calendar (complete listings of independent film showings all over the country), and complete rental information on all films reviewed.
80 Wooster St., New York City, New York, 10012
---
438 independent ("underground," "avantgarde", etc.) film-makers distribute their movies through the Film-Makers' Cooperative, 175 Lexington Avenue, New York, New York 10016. Film-Makers Cooperative is governed by film-makers themselves. (The Directors for 1970 are: Ken Jacobs, Robert Breer, Jonas Mekas, Ed Emshwiller, Michael Snow, Jud Yalkut, Stan Brakhage.) 75% of all gross income from rentals go to the film-makers; the other 25% are used to cover the Cooperative expenses. Support the film-makers Cooperatives, support the independent film-maker. Write for the Catalog of films.
---
From fifteen years of FILM CULTURE (issue 1 to 48) P. Adams Sitney has selected fourty articles which represent the evolution of the magazine from its initial period (exemplified by the writings of Andrew Sarris, Carl Dreyer, Herman Weinberg, Hans Richter, etc.) through its involvement with the New American Cinema.
Special features: The READER reprints several articles from the von Stroheim issue (No. 18)
a large portion of the first American avantgarde film issue (No. 29) which has long been out of print
and the complete supplement of Dziga Vertov's writings (No. 3)
To be published by PRAEGER PUBLISHERS August 1970, ca. 350 pp., 32 illus., index $8.95 (cloth), $3.95 (paper)
Order now from FILM CULTURE, Box 1499, G.P.O. New York, New York 1001