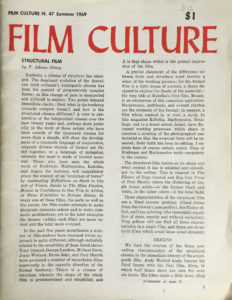 Published: Summer 1969; 48 pages
Publisher: Film Culture Non-Profit Corporation. Editor-in-Chief: Jonas Mekas. Assistant Editor: P. Adams Sitney. Business Manager: David C. Stone
Copyright 1968 by Film Culture. Printed in the U.S.A. Distributed by B. De Boer, Nutley, N.J.
Contents
1. Structural Film, by P. Adams Sitney
(Reprinted in Film Culture Reader)
2. Interview With George Landow, by P. Adams Sitney
3. The Tibetan Film of the Dead, by Ken Kelman
4. Notes on Films, by Paul Sharits
5. An Interview With Bruce Baillie, by Richard Whitehall
6. On "Eros, O Basileus", by Tom Chomont
7. "Mehr Licht…", by Robert Creeley
8. My Mtn. Song 27, by Fred Camper
9. Rossellini's Tragedy of Manners, by Ken Kelman
10. World War II and the American Film, by Lewis Jacobs
11. Eastman House Journal, by Kirk Bond
Index of Images
Fleming Faloon (George Landow)
Bardo Follies (George Landow)
The Film that Rises to the Surface of the Clarified Butter
From N:O:T:H:I:N:G (Paul Sharits)
Piece Mandala (Paul Sharits)
From notes for N:O:T:H:I:N:G (Paul Sharits)
Battle of Russia
This Land is Mine
Foreign Correspondent
Battle for the Mariana
Lifeboat
A Walk in the Sun
Desert Victory
The Great Dictator
Advertisements
Films by independent film-makers are available through the following film-makers' cooperatives:
*FILM-MAKERS' COOPERATIVE, 175 Lexington Avenue, New York, N.Y. 10016
*CANYON CINEMA COOPERATIVE, 756 Union Street, San Francisco, Calif.
*CENTER CINEMA CO-OP, 237 East Ontario, Chicago, Ill. 60611
*CANADIAN FILM MAKERS' DISTRIBUTION CENTER, R.312, Rochdale College, 341 Bloor St. West, Toronto 181, Ontario, Canada
*LONDON FILMMAKERS CO-OP, 208 Ladbroke Grove, London W. 10, England
*COOPERATIVA CINEMA INDEPENDENTE, 23 Via Montesenario, Rome, Italy
*NEWSREEL, 28 West 31st Street, New York, New York
---
filmmakers' newsletter
complete information on filmmaking for independent filmmakers
articles, festival information and equipment news
80 wooster st.
new york city
10012