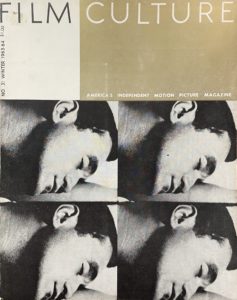 Published: 1963; 72 pages
Editor-in-Chief and Publisher: Jonas Mekas. Editors: Louis Brigante, George N. Fenin, Adolfas Mekas, Andrew Sarris, P. Adams Sitney, David C. Stone, Harold Humes.
Copyright, 1963 by Film Culture. Printed in the U.S.A. Publishers' Printing Representative: Harry Gantt. Distributed by Telestar Distributors, Inc.
Cover Picture: The sleeping man in Andy Warhol's nameless eight hour sleep movie (1963).
Contents
1. The Image of the Body, Robert Kelly
2. The Memoirs of Maria Montez, Jack Smith
3. Belated Appreciation of V.S., Jack Smith
4. Scorpio Rising, Gregory Markopoulos
5. Thanatos in Chrome, Ken Kelman
6. Filmography of Kenneth Anger
7. Twice a Man, Ken Kelman
8. Towards a New Narrative Film Form, Gregory Markopoulos
9. Poetics of the Film, Anais Nin
10. Filmography of Ian Hugo
11. Imagism in Four Avant-Garde Films, P. Adams Sitney
12. An Excerpt From the Score of "Hand Written"
13. Letter to Gregory Markopoulos, Stan Brakhage
14. From Interviews With Hans Richter
15. The Birth Film, Jane Brakhage
16. Nine Poems By Frank Kuenstler
17. Four Poems By Ruth Weiss
18. Classic Plastics (And Total Tectonics), Ken Kelman
19. On Teaching Cinema in College, Robert Gessner
20. The Birds, Cad Belz
21. The Third Lover By Claude Chabrol, Robert Giard
22. Interview With Ernest Pintoff, Gretchen Weinberg
23. Coffee, Brandy & Cigars XLI, Herman G. Weinberg
24. Books
25. Paisa, Sixth Episode (Scenario)
Index of Images
From Study in Choreography by Maya Deren
Joseph Von Sternberg's charts for Anatahan
From Eaux D'Artifice by Kenneth Anger
From Inauguration of the Pleasure Dome by Kenneth Anger
Kenneth Anger portrait
Alexander Dovzhenko portrait
Ingrid Lothingius in Vernon Zimmerman's To L.A. With Lust
From Bells of Atlantis by Ian Hugo
Ian Hugo portrait
Robert Frank shooting O.K. End Here. Also in the picture: Gert Berliner (Cameraman), Martino La Salle, Sue Ungaro
Robert Frank portrait
Adolfas Mekas shooting Hallelujah the Hills. Cameraman, Ed Emshwiller; Assistant Director, Jonas Mekas. Produced by David C. Stone.
The Bleecker Street Cinema (movie theater in Manhattan)
Film Culture back issues
Simon & Schuster, books on Michelangelo Antonioni and Luis Bunuel
New Yorker (movie theater in Manhattan)
Carnegie Hall Cinema (movie theater in Manhattan)
Film-makers' Cooperative (film distributor)
Contemporary Films, Inc. (film distributor, specifically promoting movies by Fellini)
Brandon Films, Inc. (film distributor)