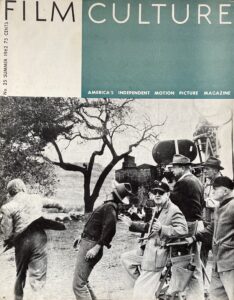 Published: 1962; 84 pages
Editor-in-Chief and Publisher: Jonas Mekas. Editors: Louis Brigante, George N. Fenin, Edouard de Laurot, Adolfas Mekas, Andrew Sarris, Gilbert Seldes, P. Adams Sitney, David C. Stone.
Copyright, 1962 by Film Culture. Printed in the U.S.A. The opinions expressed by the contributors do not necessarily represent those of the editors. Publishers' Printing Representative: Harry Gantt. Distributed by Eastern News Distributors, Inc.
Cover Picture: John Ford Shooting The Man Who Shot Liberty Valance.
Contents
1. John Ford (photographs)
2. Notes on the Art of John Ford, Michael Barkun
3. Cactus Rosebud Or The Man Who Shot Liberty Valance, Andrew Sarris
4. Cannes 1962, Patrick Bauchau
5. The Lady Called "A"; Or, If Jules and Jim Only Lived at Marienbad, Parker Tyler
6. Hatari!, Peter Bogdanovich
7. Awakening of Spring: Guns of the Trees, Joseph Freeman
8. The Sin of Jesus and The Flower Thief, P. Adams Sitney
9. First Takes, Andrew Sarris
10. Ernst Lubitsch, Ernst Lubitsch and Herman G. Weinberg
11. Ernst Lubitsch (photographs)
12. MC Et Moi, Gretchen Weinberg
13. Love in Movies, Tuli Kupferberg
14. The Writings of Dziga Vertov
15. Dziga Vertov (photographs)
16. Independents (photographs)
17. From Alienation to Cinema, Edouard de Laurot
18. Excerpts From Notes on the New American Cinema, Jonas Mekas
19. A Statement, Ron Rice
20. Anti-Dotes For Poisoned Movies, Stan Vanderbeek
21. Notes, Stan Brakhage
22. An Interview With Seymour Stern, Herman G. Weinberg
23. Roman Notebook, Storm De Hirsch
24. New American Cinema in Stockholm, Nils-Hugo Geber
25. Two Samples of Film Work By Children, DeeDee Halleck
26. Books, Magazines
Index of Images
John Ford (1932) and Wallace Beery, During the Shooting of Flesh, John Ford photographs — courtesy of the Film Library, Museum of Modern Art, New York
John Ford (1933), Shooting Pilgrimage, On Location at Norwalk, California
John Ford (1934), with Heather Angel and Madeline Carroll, During the Shooting of The World Moves On
John Ford (1935), Shooting The Whole Town's Talking With Jean Arthur and Edward G. Robinson
John Ford (1939) and Tim Holt, During the Shooting of Stagecoach
John Ford (1941), Shooting The Battle of Midway
John Ford (1950), Maureen O'Hara, and John Wayne, During the Shooting of Rio Grande at Moab, Utah
John Ford (1961), Shooting The Man Who Shot Liberty Valance
Ernst Lubitsch (1926) Visits the Set of Paul Bern, Scenarist of The Marriage Circle, While Bern Is Shooting Open All Night. Viola Dana. Ernst Lubitsch photographs — courtesy of H. G. Weinberg
Ernst Lubitsch Directs The Patriot at Paramount (1928)
Lubitsch Visits Claudette Colbert on the Set of Sign of the Cross (1932), Directed By Cecil B. De Mille
Ernst Lubitsch and Miriam Hopkins on the Set of Trouble in Paradise (1933)
Dziga Vertov (1896-1954)
Jerome Hill (With the Megaphone) Shooting Peacock Feathers in Greenwich Connecticut
Rick Carrier, Director of Strangers in the City Is Shooting His Second Feature This Summer in Provincetown
Louis Clyde Stoumen, Director of the Just Completed Black Fox, A Feature Length Documentary On Adolf Hitler, Marlene Dietrich Narrates The Film
Advertisements
Arbe Originals (fashion)
N.Y. Film Bulletin (magazine)
Video Film Laboratories
Moderna Museets Filmstudio (museum in Stockholm)
The Quarantine, a drama of contemporary America, written and directed by Edouard De Laurot
Hansom Books (bookstore in London promoting "Films and Filming" magazine)
Film-Maker's Cooperative
Contemporary films, inc. (distributor promoting Alain Resnais' Night and Fog)
The Janus Film Library (distributor promoting 16mm non-theatrical titles)
New Yorker (movie theater)
Carnegie Hall Cinema (movie theater)
Audio Film Center Libraries (distributor promoting 16mm releases)
Brandon Films, Inc. (film distributor)