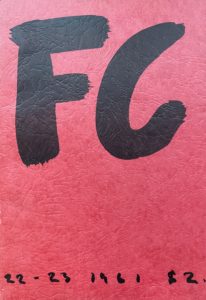 Published: 1961; 208 pages
Editor-in-Chief and Publisher: Jonas Mekas. Editors: George N. Fenin, Edouard de Laurot, Adolfas Mekas, Gilbert Seldes, Louis Brigante, Arlene Croce, Andrew Sarris. Layout: George Maciunas. Correspondents: Guido Aristarco, Italy; Francis Bolen, Belgium; J. Broz, Czechoslovakia; Jose Clemente, Spain; Eugenio Hintz, Uruguay; E. Patalas, W. Germany; Tony Richardson, England.
Copyright, 1961 by Film Culture. Printed in the U.S.A. Publisher's Printing Representative: Harry Gantt. The opinions expressed by the contributors do not necessarily represent those of the editors.
Contents
1. Illustrations
2. Editorial
3. Third Independent Film Award
4. The Frontiers of Realist Cinema: The Work of Ricky Leacock, an Interview
5. For an Uncontrolled Cinema, Ricky Leacock
6. Declamation on Film, Parker Tyler
7. Debasement of the Art of Montage, Henri Colpi
8. Montage, Mon Beau Souci, Jean-Luc Godard
9. The Meaning of Montage, Andre Bazin
10. The Forbidden Montage, Andre Bazin
11. Montage 1960, Sergei Yutkevich
12. Sound Montage: A Propos de Ruttmann, Paul Falkenberg
13. What Is Mise-en-Scene?, Alexandre Astruc
14. Reflections On the Film Actor, Michelangelo Antonioni
15. The Director's Game, Andrew Sarris
16. A Modern Hero: The Nongenue, A.J. Alexander
17. A New Look at an 'Old Sneeze', Gordon Hendricks
18. Hysteria and Authoritarianism in the Films of Robert Aldrich, Ian Jarvie
19. California Diary, H.G. Weinberg
20. Mar del Plata Film Festival, G.N. Fenin
21. The New American Cinema Group
22. The First Statement of the Group
23. Film Unions & the Low-Budget Independent, Degangi, Stoumen, Van Dyke, Shirley Clarke, Mekas
24. Methods and Problems of Film Financing, Lewis Allen, J.M. Perlman, Don Gillin, Emile de Antonio
25. On A Film In Progress, Maya Deren
26. A Statement of Principles, Maya Deren
27. On Two Films, Robert Breer
28. On the End of Audiences, Len Lye
29. On Night Tide, Curtis Harrington
30. On Science Friction, Stanley Vanderbeek
31. Know Any Way Out?, Stanley Brakhage
32. On Serenity, Gregory Markopoulos
33. Giro Di Roma — A Film Script, Edouard de Laurot
Argus Speare Juilliard and Frank Kuenstler, in Guns of the Trees, directed by Jonas Mekas
composer Alec Wilder, in a scene from The Sand Castle, directed by Jerome Hill
Big Sneeze, (see Gordon Hendricks article on p. 90)
Ricky Leacock
Al Maysles, during the shooting of Primary
a sequence from Inner & Outer Space, by Robert Breer
Dennis Hopper in a scene from Night Tide, directed by Curtis Harrington
ag 925 Madison Av. (a gallery space set up by George Maciunas)
Russian-English Dictionary of Technology, Science and Art of Cinematography (a book)
Bread & (a magazine / journal)
Four Screenplays of Ingmar Bergman (a book)
Cinema 16 (a screening series / film club)
Allen-Hodgdon Productions, promoting The Connection
FC Film Unit, Inc. (selling common stock shares in this film production company)
Emile de Antonio Inc. (a film production company)
Contemporary Films, Inc. (a film distributor)
Brandon Films, Inc. (a film distributor)
Spoleto Film Exposition (June 16 through July 15)