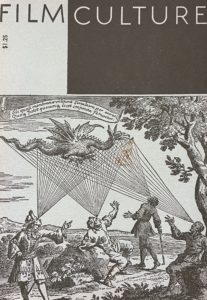 Published: 1960; 110 pages
Editor-in-Chief and Publisher: Jonas Mekas. Editors: George N. Fenin, Edouard Laurot, Adolfas Mekas, Gilbert Seldes, Louis Brigante, Arlene Croce, Andrew Sarris. Layout: George Maciunas. Correspondents: Guido Aristarco, Italy; Francis Bolen, Belgium; J. Broz, Czechoslovakia; Jose Clemente, Spain; Eugenio Hintz, Uruguay; E. Patalas, W. Germany; Tony Richardson, England.
Copyright, 1960 by FILM CULTURE. Printed in the U.S.A. Publisher's Printing Representative: Harry Gantt. The opinions expressed by the contributors do not necessarily represent those of the editors.
Cover Picture: An engraving by Johann Zahn, from the year 1685
Contents
1. Cinema of the New Generation, Jonas Mekas
2. Interpreting Reality, Lionel Rogosin
3. On "The Cry of Jazz", Edward Bland
4. Harrington, Markopoulos and Boultenhouse, Parker Tyler
5. The Dream-Work, Sigmund Freud
6. A Statement, Luis Buñuel
7. The Eternal Rebellion of Luis Buñuel, Emilio G. Riera
8. The Films of Luis Buñuel, Emilio G. Riera
9. Nazarin, Octavio Paz
10. The World of Apu, Arlene Croce
11. The Silent Sound Sense, Stanley Brakhage
12. Colour and Light in Film, Rouben Mamoulian
13. Notes on the Mar Del Plata Festival, George N. Fenin
14. Coffee, Brandy and Cigars XXXIII, H.G. Weinberg
15. Film Festivals
16. Books
17. An Index to "Film Culture" No. 1 — No. 20
Index of Images
Luis Buñuel (second from left) and Salvador Dali (extreme left) during the shooting of Un Chien Andalou
Luis Buñuel during the shooting of Nazarin
Robert Frank during the shooting of Sin of Jesus (photo by John Cohen)
Lionel Rogosin
Bert Stern during the shooting of Jazz on a Summer's Day
Gregory Markopoulos during the shooting of Serenity
Rent The Cry of Jazz thru KHTB Productions, Inc.
Vincente Minnelli by Catherine de la Roche (a book biography)
Hampton Books (a store on Long Island)
The New Yorker Theater (movie theater in Manhattan)
The Bleecker Street Cinema (movie theater in Manhattan)
Contemporary Films, Inc. (a film distributor)
(The second Independent Film Award is given to Robert Frank's and Alfred Leslie's Pull My Daisy, dated April 26, 1960.)