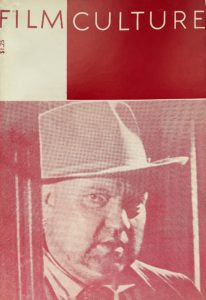 Published: 1959; 96 pages
Editor-in-Chief and Publisher: Jonas Mekas. Editors: George N. Fenin, Edouard Laurot, Adolfas Mekas, Gilbert Seldes, Eugene Archer, Louis Brigante, Arlene Croce, Andrew Sarris. Layout: George Maciunas. Correspondents: Guido Aristarco, Italy; Francis Bolen, Belgium; J. Broz, Czechoslovakia; Jose Clemente, Spain; Eugenio Hintz, Uruguay; E. Patalas, W. Germany; Tony Richardson, England.
Copyright, 1959 by FILM CULTURE. Printed in the U.S.A. Publisher's Printing Representative: Harry Gantt. Distributor for retail sale: B. de Boer, 102 Beverly Road, Bloomfield, N.J. The opinions expressed by the contributors do not necessarily represent those of the editors.
Cover Picture: Orson Welles in Touch of Evil
Contents
1. Editorial Note, Jonas Mekas
2. First Outline for a Film on Peace, Cesare Zavattini
3. Vive La Guerre!, Edouard de Laurot
4. Flaherty and Tabu, Richard Griffith
5. A few Reminiscences, David Flaherty
6. Turia, An Original Story, Murnau, Flaherty
7. Tabu, A Story of the South Seas, Murnau, Flaherty
8. Neorealist Cinematography, Nestor Almendros
9. The Early Work of Bresson, Richard Roud
10. Willard Maas, Parker Tyler
11. The European Western, G.N. Fenin and W.K. Everson
12. A Letter From Mexico, Adolfas Mekas
13. Touch of Evil, H.G.W. (Herman G. Weinberg)
14. Ivan The Terrible, Part Two, H.G.W. (Herman G. Weinberg)
15. Coffee, Brandy and Cigars, XXXII, H.G. Weinberg
16. Books
Index of Images
from Pull My Daisy, by Robert Frank and Alfred Leslie
from Pull My Daisy
from Pull My Daisy (left to right: Peter Orlowski, Gregory Corso, Allen Ginsberg)
John Cassavetes (second from the right) with his crew, during the shooting of Shadows (photo: Marvin Lichtner
Luchino Visconti (in the center) and R. Aldo (by the camera) during the shooting of La Terra Trema
Robert Bresson
Edouard de Laurot (profile, on the right) during the shooting of Rome O'clock
Advertisements
Soviet Film (A monthly publication from Four Content Book Corporation)
Vincente Minnelli by Catherine de la Roche (A monograph from the New Zealand Film Institute)
Memory Shop (A store in Manhattan)
Film Quarterly (A film journal)
Film: An Anthology, edited by Daniel Talbot (A book collecting writing on film)
The Film Center of the Young Men's and Young Women's Hebrew Association (A screening series)
Contemporary Films (A film distributor)
Brandon Films (A film distributor)