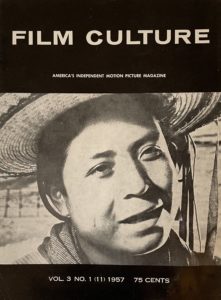 Published: 1957; 32 pages.
Editor in Chief and Publisher: Jonas Mekas. Editors: Edouard de Laurot, George N. Fenin, Adolfas Mekas. Associate Editors: Eugene Archer, Louis Brigante, Arlene Croce, Andrew Sarris. Layout: George Maciunas.
Foreign Correspondents: Guido Aristarco, Italy; Francis Bolen, Belgium; Jaroslav Broz, Czechoslovakia; Jose Clemente, Spain; Lotte H. Eisner, France; Eugenio Hintz, Uruguay; Enno Patalas, West Germany; Tony Richardson, England.
Copyright, 1956 by FILM CULTURE. The opinions expressed by the contributors do not necessarily represent those of the editors. Printed in the U.S.A.
Publisher's Printing Representative
HARRY GANTT, 360 Cabrini Blvd., New York 40, N. Y.
ON THE COVER: From Raices, directed by Benito Alazraki. And Edward Harrison release.
Contents
1. Editorial, Jonas Mekas
2. George Stevens and the American Dream, Eugene Archer
3. Hans Richter on the Nature of Film Poetry, Jonas Mekas
4. Epic and Dramatic Film, Rudolf Arnheim
5. Carol Reed in the Context of his Time, Andrew Sarris
6. We Are All Murderers, Arlene Croce
7. Raices, Herman G. Weinberg
8. Edge of the City, Jonathan Baumbach
9. Baby Doll, Andrew Sarris
10. On the 16mmm Screen, Frank Kuenstler
11. Learning the Film at UCLA, Daniel Lusa
12. Misc., Richard Kraft
13. Coffee, Brandy and Cigars (XXV), Herman G. Weinberg
14. Chronology of George Stevens' Films
15. Books
Index of Images
unlabeled promotional image of Giant
small unlabeled photo of Hans Richter
unlabeled (and unknown at this time) film still, possibly of a Hans Richter film
unlabeled (and unknown at this time) film still, possibly of another Hans Richter film
unlabeled photo, possibly of filmmaker André Cayatte
two unlabeled film stills from the film Raices
three unlabeled film stills from the film Baby Doll
unlabeled film still from A Place in the Sun (aka An American Tragedy)
Advertisements
Contemporary Films, Inc. (2 ads)
Intro Bulletin
The Living Cinema, International Cinema Quarterly