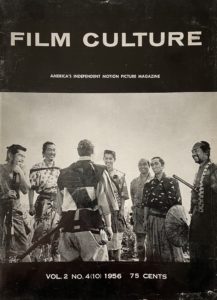 Published: 1956; 32 pages
Editor in Chief and Publisher: Jonas Mekas. Editors: Edouard de Laurot, George N. Fenin, Adolfas Mekas. Associate Editors: Eugene Archer, Louis Brigante, Arlene Croce, Andrew Sarris.
Foreign Correspondents: Guido Aristarco, Italy; Francis Bolen, Belgium; Jaroslav Broz, Czechoslovakia; Jose Clemente, Spain; Lotte H. Eisner, France; Eugenio Hintz, Uruguay; Enno Patalas, West Germany; Tony Richardson, England.
Copyright, 1956 by FILM CULTURE. The opinions expressed by the contributors do not necessarily represent those of the editors. Printed in the U.S.A.
Publisher's Printing Representative
HARRY GANTT, 360 Cabrini Blvd., New York 40, N. Y.
ON THE COVER: The seven samurai in The Magnificent Seven, Akira Kurosawa's film, awarded the Lion of St. Mark at the Venice Festival. (Distributed by Columbia Pictures.)
Contents
1. Editorial, Jonas Mekas
2. Modesty and Pretension in Two New Films, Jay Leyda
3. An Interview With Robert Aldrich, George N. Fenin
4. Was the Artistic World of Van Gogh a Cataclysm?, Aleksis Rannit
5. Carol Reed in the the Context of His Time, Andrew Sarris
6. Swedish Cinema — Classic Background and Militant Avantgarde, Edoard Laurot
7. The Silent World of Slapstick (1912-1916), Mark Sufrin
8. Giant, Andrew Sarris
9. Vitelloni, Eugene Archer
10. The Bad Seed, Arlene Croce
11. Tea and Sympathy, Arlene Croce
12. Coffee, Brandy and Cigars (XXIV), Herman G. Weinberg
13. Edinburgh and Venice, Guido Aristarco
14. Children's Films at Lido, Lotte H. Eisner
15. Documentaries at Lido, Lotte H. Eisner
Index of Images
Rashomon (Columbia Pictures) (New York Public Library) (3 photos)
Moby Dick (George Maciunas)
Robert Aldrich (no credit)
Carol Reed (no credit)
Advertisements
Hampton Books
Contemporary Films
Intro Bulletin
Cinema Nuovo
G. Maciunas — Import Merchant