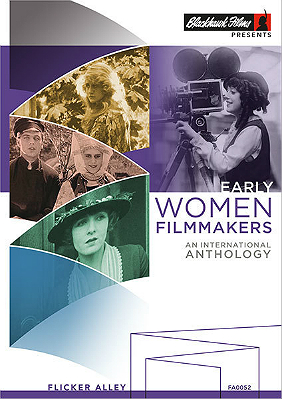 Official Description: More women worked in film during its first two decades than at any time since. Unfortunately, many early women filmmakers have been largely written out of film history, their contributions undervalued. This necessary and timely collection highlights the work of 14 of early cinema's most innovative and influential women directors, re-writing and celebrating their rightful place in film history.
International in scope, this groundbreaking collection features over 10 hours of material, comprised of 25 films spanning 1902-1943, including many rare titles not widely available until now, from shorts to feature films, live-action to animation, commercial narratives to experimental works. Directors include Alice Guy Blaché, Lois Weber, Mabel Normand, Madeline Brandeis, Germaine Dulac, Olga Preobrazhenskaia, Marie-Louise Iribe, Lotte Reiniger, Claire Parker, Mrs. Wallace Reid (Dorothy Davenport), Leni Riefenstahl, Mary Ellen Bute, Dorothy Arzner, and Maya Deren.
These women were technically and stylistically innovative, pushing the boundaries of narrative, aesthetics, and genre. Going back to the beginning of cinema, this collection makes visible the tremendous directorial contributions women made all around the world. Beautifully restored in high definition, Early Women Filmmakers features new scores by Sergei Dreznin, Frederick Hodges, Tamar Muskal, Judith Rosenberg, and Rodney Sauer and the Mont Alto Motion Picture Orchestra.
Distributor: Flicker Alley
Availability: Amazon
Contents:
Alice Guy Blaché (1873-1968)
Les Chiens Savants (1902)
Running time: 4:33 min
Une Histoire Roulante (1906)
Running time: 2:35 min
La Barricade (1907)
Running time: 5:36 min
Falling Leaves (1912)
Running time: 14:09 min
Making an American Citizen (1912)
Running time: 14:18 min
The Girl in the Armchair (1912)
Running time: 12:56 min
Lois Weber (1879-1939)
Suspense (1913)
Running time: 10:21 min
Discontent (1916)
Running time: 24:50 min
The Blot (1921)
Running time: 93:36 min
Mabel Normand (1892-1930)
Mabel's Strange Predicament (1914)
Running time: 11:54 min
Madeline Brandeis (1897-1937)
The Star Prince (1918)
Running time: 58:11 min
Germaine Dulac (1882-1942)
La Cigarette (1919)
Running time: 50:02 min
La Souriante Mme. Beudet (1922)
Running time: 42:39 min
Olga Preobrazhenskaia (1881-1971)
The Peasant Women of Ryazan (1927)
Running time: 88:21 min
Marie-Louise Iribe (1894-1934)
Le Roi des Aulnes (1929)
Running time: 45:09 min
Lotte Reiniger (1899-1981)
Harlequin (1931)
Running time: 24:55 min
The Stolen Heart (1934)
Running time: 10:21 min
Papageno (1935)
Running time: 10:49 min
Claire Parker (1906-1981)
A Night on Bald Mountain (1933)
Running time: 9:21 min
Mrs. Wallace Reid (Dorothy Davenport) (1895-1977)
The Woman Condemned (1934)
Running time: 64:29 min
Leni Riefenstahl (1902-2003)
Day of Freedom (1935)
Running time: 16:58 min
Mary Ellen Bute (1906-1983)
Parabola (1937)
Running time: 8:28 min
Spook Sport (1939)
Running time: 7:55 min
Dorothy Arzner (1897-1979)
Dance, Girl, Dance (excerpt) (1940)
Running time: 3:53 min
Maya Deren (1917-1961)
Meshes of the Afternoon (1943)
Running time: 13:38 min
You Might Also Like