Book Tour: Impossibly Funky Does New England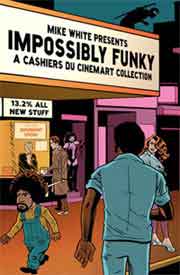 Mike White, editor of the awesome cult cinema book Impossibly Funky, will be criss-crossing New England and Canada from May 27 to June 4 for a rip-roaring book tour that will include readings, signings, plus screenings of some of his favorite films.
The action begins on May 27 at Manhattan's famed 92YTribeca with a startling double feature of Miami Blues and Shock Treatment. Miami Blues, the 1990 film starring Alec Baldwin, is based on a novel by Charles Willeford, one of White's favorite writers and the subject of a chapter in Impossibly Funky. Shock Treatment is the oft-overlooked sequel to the ultimate Midnight Movie, The Rocky Horror Picture Show.
The tour will then make stops in Schenectady, NY; Montreal, QC; Huntington, NY; Brooklyn, NY and Boston, MA before concluding on June 4 at the Cable Car Cinema in Providence, RI with a screening of Black Shampoo, the 1976 blaxploitation picture that has served as major obsession for White. In fact, Impossibly Funky has 8 full chapters devoted to the film.
The book Impossibly Funky is a best of collection of articles culled from 15 issues of the classic print zine Cashiers du Cinemart that White edited and published for 14 years. It started as a simple photocopied zine that grew into much beloved — and now fondly missed! — four-color magazine. While White was the zine's main writer, he also published work by contributors like Skizz Cyzyk, Leon Chase, Andrew Grant, Mike Thompson and more.
Personally, CdC turned me onto the one-and-only Mike Z and introduced me to the pleasures of Death Game. (Oh yeah, Colleen Camp!)
Articles in Impossibly Funky include complete coverage of the awesomely entertaining Mike White/Quentin Tarantino smackdown; interviews with Bruce Campbell, Guy Maddin, Monte Hellman and more; reviews of unproduced screenplays for The Hulk and Planet of the Apes; and, of course, lots on Black Shampoo; plus, a ton more greatness.
Read the Underground Film Journalt's review of Impossibly Funky here!
White's undying love of oddball, outrageous and flat-out fun cinema is completely infectious making Impossibly Funky a great read and should make highly entertaining live discussions. If you live in New England and are near any of these venues, definitely go check him out:
May 27
92YTribeca
Manhattan, NY
Miami Blues & Shock Treatment
May 28
It Came From Schenectady
Schenectady, NY
Without Warning & Satan's Cheerleaders
May 29
Blue Sunshine
Montreal, QC
Angel's Brigade (16mm)
May 31
Cinema Arts Center
Huntington, NY
Black Shampoo
June 1
reRun Gastropub
Brooklyn, NY
Black Shampoo
June 3
Brookline Booksmith
Boston, MA
(Signing/Reading)
June 3
The Coolidge Corner Theater
Boston, MA
Black Shampoo
June 4
Cable Car Cinema
Providence, RI
Black Shampoo