American Messiah Awards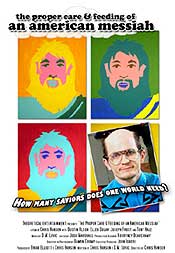 The Underground Film Journal wants to offer belated congratulations to director Chris Hansen and his two leading men, Dustin Olson and Joseph Frost, for winning "Best Performances in a Feature Film" at the 2007 Silver Lake Film Festival for the film The Proper Care & Feeding of an American Messiah. This wasn't a dual award or a shared award. The SLFF gave out 5 "Best Performances" awards and two of them went to Dustin and Joseph each.
Hey, I've been saying how great the film is since my original review here, particularly praising Dustin's ability to play a character who's at once thoroughly repulsive, but also oddly compelling.
Again, congrats to everyone involved and good luck to all y'all in your future endeavors!