2012 Submission Deadline Updates: Oakland Underground & Onion City Film Festivals
Oakland Underground Film Festival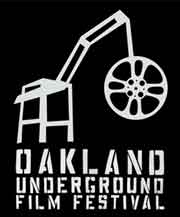 The Oakland Underground Film Festival is offering a very special promotion for readers of the Underground Film Journal who want to submit a film to their 4th annual festival, which will run on Sept. 27-30 in California's Bay Area.
It is now completely free to submit to OakUFF for all filmmakers who mention the Underground Film Journal with their submission materials. That's right, your entry fee will be waived as long as you say you've read about this offer on the Underground Film Journal. Their final deadline for submissions is June 1.
OakUFF typically screens a wide variety of work. Last year, they screened the semi-autobiographical drama Yelling to the Sky by Victoria Mahoney, the music documentary/narrative fusion of Marimbas From Hell by Julio Hernández Cordón, and the campy Devious, Inc. by xuxE, among other films. You can check out last year's full lineup here.
The festival also appears to be expanding a little this year by adding an extra night of programming.
So, if you're interested in submitting, please make sure you mention the Underground Film Journal to take advantage of the special free submission offer.
Final Deadline
June 1
Free (as long as you mention the Underground Film Journal)
Onion City Experimental Film and Video Festival

Chicago's premiere experimental film showcase, the Onion City Experimental Film and Video Festival, has extended their final deadline until May 4.
Onion City will celebrate its amazing 24th year in 2012 and is looking primarily for short experimental works, but they're also usually open to screening a few feature-length films. Plus, this year, they're looking for submissions for installation work.
The fest will run on June 21-24. To submit, please visit the Onion City website.
Final Deadline:
May 4
$25