2012 Calls For Entry: Boston Underground & $100 Film Festivals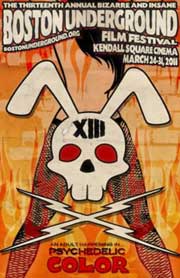 If it's mid-summer, then it's time for filmmakers to start thinking about their 2012 film festival runs. Yep, several fests are already opening up their submission process. A few weeks ago, the Underground Film Journal reported that the 50th annual Ann Arbor Film Festival was already looking for films. And now, two more unique fests have sent out their initial calls for 2012 already.
Boston Underground Film Festival
First up, the indomitable Boston Underground Film Festival will be celebrating their 14th raucous year in operation in late March of 2012 and they're looking for outrageous, transgressive flicks to fill their programming slate.
BUFF typically screens a ton of short films and several features. To get a feel for what types of films they're looking for, check out last year's lineup, which included lovely movies such as Usama Alshaibi's Muslim S&M meditation Profane, Jason Eisener's acclaimed Hobo With a Shotgun, James Felix McKenney good little Christian parable Satan Hates You, gore-fests like Helldriver, Chop and more. Lots more.
Blood and guts, degenerate acts, counter-cultural rants, misanthropic delusions, antisocial norms — if your film is loaded with this kind of stuff, then BUFF is going to want to take a look at it.
There are several deadlines coming up, with the final one falling on Jan. 13, 2012:
Early Deadline:
Aug. 27
Features: $45
Shorts: $30
Regular Deadline
Oct. 14
Features: $55
Shorts: $40
Late Deadline
Dec. 30
Features: $65
Shorts: $45
Extended Deadline
Jan. 13, 2012
Features: $85
Shorts: $60
To submit, please visit the official Boston Underground Film Festival, or visit Withoutabox, which has submission fee discounts.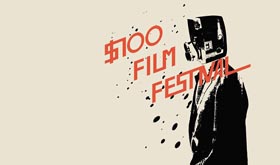 $100 Film Festival
Calgary's $100 Film Festival is one of the last fests in the entire world where the emphasis is on film. That's right, the fest only screens "films" that are actually shot on and then projected on film: Either Super 8 or 16mm. So, if you were thinking about submitting a video you shot — go to some other festival.
The $100 FF is going to run next year on March 1-3 and they're going to screen a boatload of short films over those three days. The fest is also very partial to screening both avant-garde and experimental short films. For example, last year they screened multiple works by experimental animator Jodie Mack, plus films by Paul Clipson, Zach Iannazzi, Noam Gonick; and had a tribute to the mind-blowing experimental films by Alexandre Larose.
For this there is only one deadline, and not only are there no entry fees, but they pay screening honorariums for all accepted films.
Final Deadline:
Dec. 1
To submit, please visit the official website for the $100 Film Festival.