2012 Arizona Underground Film Festival: Official Poster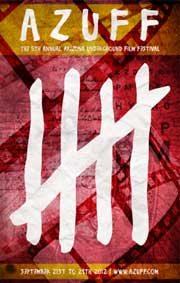 The Arizona Underground Film Festival has unleashed its official 2012 poster, which boldly shows off that the fest has made it an impressive five years. Quite frankly, the festival seems to get bigger and bolder every year, so congrats to them! And congrats to AZUFF Creative Director Matt McCoy who designed an eye catching poster.
The 5th annual AZUFF will run this year on Sept. 21-29. If you're interested in submitting your film, there's still time. The Late Deadline is coming up soon on June 29 and the Final Deadline is on July 25. Click here for more info.