2011 Portland Underground Film Festival: Official Lineup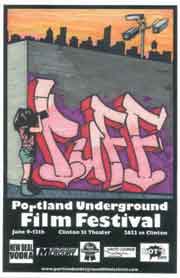 The 7th annual Portland Underground Film Festival is all set to terrorize and revile the entire Pacific Northwest with their lineup of seriously deranged feature films and shorts that will run for four nights on June 9-12.
The insanity begins Opening Night when Portland's own most demented filmmaker, Bob Moricz, premieres his latest feature-length cinematic crime against nature, Felony Flats. Moricz stars in the film himself as a mentally ill man trying to find love and acceptance in Portland's seediest neighborhood. The Underground Film Journal has been hard pimpin' Moricz's work for years and we're thrilled he's been chosen to open this year's PUFF.
Other feature films include the Australian punk rock documentary 6 Foot Hick; the female revenge flick Cherry Bomb; the Portland-based drama The Gray Area; the heavy metal musical Mr. Bricks; and the film PUFF says is the most gruesome movie they've ever shown in 7 years: Adam Rehmeier's The Bunny Game.
On the 11th, there will be a block of short films, but that lineup is currently TBA. Unconfirmed, though, are Kevin Lonano's Carny and Greg Hanson & Casey Regan's Thy Kill Be Done. We'll try to have those confirmations and the full shorts lineup when it becomes available. Plus, on the 10th, there will be the annual "Bike Porn" screenings.
The fest will screen at the legendary Clinton St. Theater. Please see the Portland Underground Film Festival website for more info. The lineup of films is below:
June 9
8:30 p.m.: Felony Flats, dir. Bob Moricz. A mentally-challenged man is let loose in a decrepit area of Portland, Oregon. (Read the review)
June 10
7:00 p.m.: "Bike Porn 5: Science Friction"
If you like bikes, sex and movies: This is the screening for you!
9:00 p.m.: "Bike Porn 5: Science Friction"
See above.
June 11
5:30 p.m.: 6Ft Hick: Notes From the Underground, dir. Kristopher Sundholm. Travel across Europe on tour with Australia's mangiest Rockabilly Punks.
7:00 p.m.: Cherry Bomb, dir. Kyle Day. After an exotic dancer is assaulted by five men, she enlists the help of her brother to get some revenge the old-fashioned way.
9:00 p.m.: "PUFF Short Films Program"
Woman in a Cloak, dir. D.R. Garrett
Toxic Red Sludge, dir. Paul Turano
Carny, dir. Kevin Lonano (Watch online)
The Squash, dir. Bobby Young (Watch online)
Living on Stilts, dir. Sean Ferris
The Death of Johnny Forceps, dir. Tim Orme
They Kill Be Done, dir. Greg Hanson & Casey Regan (Watch online)
Celluloid, dir. Ethan Knecht
Ghost Beach, dir. Ian Sundah
Mickey Gets a Fade, dir. SLOP
Psychotic Killer Pugs, dir. Dave Angus & Greg Hamilton
June 12
5:00 p.m.: The Gray Area, dir. Chapin Hemmingway. A Portland, Oregon native returns home from Los Angeles to attend the funeral of his best friend, who died from a major drug overdose.
7:00 p.m.: Mr. Bricks: A Heavy Metal Murder Musical, dir. Travis Campbell. An ex-con wakes up with partial amnesia thanks to a bullet lodged in his brain. Relying on his fuzzy memory, he tries to track down who shot him and left him for dead.
9:00 p.m.: The Bunny Game, dir. Adam Rehmeier. A prostitute accepts a ride with a trucker, a decision that might just cost her her life. (Read the review)