2011 ATA Film & Video Festival: Official Lineup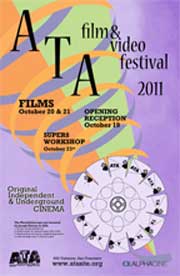 The 6th annual ATA Film & Video Festival will run on Oct. 19-21 with another edition of their typically outstanding selection of the best experimental media being produced around the world.
The fest's opening night, the 19th, is a meet and greet with many of the filmmakers who will have their films screened over the next two nights. Plus, attendees will have the opportunity to check out the art installation Insecurity Booth by Sam Manera that combines live and collected feeds from numerous security cameras.
The festival is also mixing things up a little bit by including, along with the films, a couple live vocal performances. The night of the 20th will open with two performances by Tommy Becker, while the night of the 21st will close with a performance by Douglas Katelus.
As for the films, there will be one programming block of shorts each night. The Oct. 20 block is titled "City Symphonies" and includes films from ATA Fest regulars such as Paul Clipson and Friedl Vom Gröller, plus films by Stephanie Barber, Lori Felker & Robert Todd, Rachel Ann Manera, David Baumflek and others.
The Oct. 21 block is titled "Sling-shots" and includes short films by Bryan Boyce, Clint Enns, Karl Lind, Hazel Gore and others.
The festival takes place, of course, at the Artists' Television Access center in San Francisco.
For more info, please visit the official ATA Film & Video Festival website. The full film lineup is below.
Oct. 19
7:00 p.m.: "Opening Reception"
Come view the installations on display and meet several of the filmmakers who have films in this year's festival.
Oct. 20
8:00 p.m.: "City Symphonies"
"Song for Hellos & Goodbyes" (Live vocal performance by Tommy Becker)
"Song for the Untitled" (Live vocal performance by Tommy Becker)
Earthrise, dir. David Baumflek
Journals from the Chihuahuan Desert, dir. Rachel Ann Manera
The Hunch That Caused the Winning Streak and Fought the Doldrums Mightily, dir. Stephanie Barber
Piensa En Mi, dir. Alexandra Cuesta
Imperceptihole, dir. Lori Felker & Robert Todd
L'Ambouba, dir. Nadia Rais
Der Phototermin (Photo Session), dir. Friedl Vom Gröller
Caridea and Ichthyes (No.5), dir. Paul Clipson
Oct. 21
8:00 p.m.: "Sling-shots"
Walt Disney's Taxi Driver, dir. Bryan Boyce (Watch online)
RobbieXBallPlayerz, dir. Chris Matule
Workers Leaving the Googleplex, dir. Andrew Wilson
Self Improvement, dir. Clint Enns
Sheets, dir. Shalo P
WHITELICK, dir. Tim Gallaher
Poison Ivy, dir. Hazel Gore
Camp, dir. Peter Freund
The Great Task Remaining B4 US, dir. Karl Lind
Spinning in Place, dir. Dayv Jones
"Casino" (Live vocal performance by Douglas Katelus)