Movie Review: 2000 NYUFF: Day 3, Part 4: Short Films
Last night's movies were brutal. It looked like they oversold the theater and some people had to sit on the floor.
The place hosting the 2000 New York Underground Film Festival is the Anthology Film Archives on Second Ave and Second Street in Manhattan. The place has two screens. The one upstairs is fairly big, but the one downstairs, the one I was in last night, is shoebox size. I'm complaining more than I should, but the pre-show confusion last night was pretty confusing.
I saw a collection of shorts called "Raw & Ready". The first one was The Death of Sex by Carey Burtt. I think I was sitting two seats down from Carey (or at least one of Raw & Ready's directors) and his friend sitting between us kept trying to look at my notes, so I had to keep my hand over them. At first, I had to wonder about what the title had to do with this movie. It was reminiscent of Ed Wood's Orgy of the Dead, except Carey's girls danced around in giant body condoms. Then came a shot of a chick giving a dildo a hand job while blood orgasmed out of it. At least now the title made sense.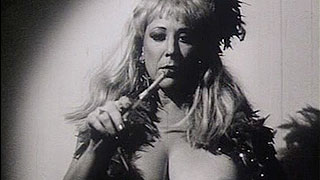 Next up was Nick Zedd's Ecstasy in Entropy. I've heard of Nick as being a major underground film legend in NYC. This was the first movie I've ever seen by him. It was definitely an homage to Andy Warhol's films. Highlights of Ecstasy are a brutal death by boob battering; a naked Russ Meyer cat fight; a blow job resulting in a woman being squirt in the face with milk out of a dildo for five minutes; a breast ogling sequence with voiceovers of bimbos discussing Marxism, anarchy and revolution; and a violent girl-on-girl rape.
Feminist Fatales I can't say too much about since it was so short. It was presented like a preview for a feature film about radical female sex performers in Denmark. Mostly it was just a naked chick wearing a ski mask walking around while old people stared at her. The filmmaker, Gritt Uldall-Jessen, sat a couple rows in front of me. She was pretty cute and I wondered if she might have been the woman under the ski mask. I should have asked.
Some Like It Without Sugar by Andrej Velikanova was some funny and mundane clips from Russian TV with an ominous soundtrack that sort of sounded like the music from Psycho, but it wasn't. The fest was supposed to show three shorts by Andrej, but they only ended up showing this one for some reason.
I absolutely loved Jeff by Mark Hejnar. It told the story of Jeffrey Dahmer through found TV news footage, as well as I think a few original shots with the sound layered and distorted. It was a really haunting and creepy meditation on Dahmer who just looked like the embodiment of pure evil.
The best film in this collection, and the one I was the most anxious to see, was Meat Fucker by Shawn Durr. The audience seemed to love it. Everyone was howling through the entire thing, including especially myself.
Meat Fucker is the tender story of a young boy traumatized into vegetarianism by his overbearing mother. In one scene, dear old Mom catches her son eating a roast beef sandwich in his bedroom and she chastises him as though she caught him masturbating. This was probably the most brilliantly written scene in the film.
Now a full-grown man, the reluctant vegetarian lives with a male roommate who eats nothing but meat and has sex with his girlfriend covered in steak sauce. Unable to express his true sexuality, the vegetarian has phone sex while sitting in a bathtub full of hot dogs and, yes, is a meat fucker. His romancing of a dead, uncooked chicken is a sequence that has to be seen to be believed.
Continue on to 2000 NYUFF: Day 4, Part 1.