Jonas Mekas: Rocket Man!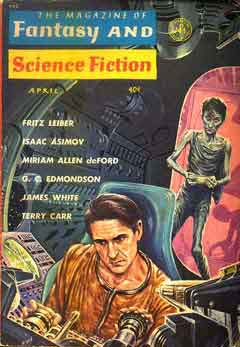 To the moon, Jonas! The blog Potrzebie posted up this scan of the cover of a 1963 issue of The Magazine of Fantasy & Science-Fiction featuring a dashing young Adolfas Mekas piloting a rocketship while his skeletal brother Jonas Mekas looms in the background. Apparently the cover is illustrating a tale of a spaceman who starves himself so his brother can pilot their lost ship back to civilization. (Click image to embiggen.)
How did the Mekas brothers end up on the cover of a sci-fi mag? The cover painting was done by their friend and fellow underground filmmaker Ed Emshwiller who had a career doing sci-fi illustrations back in the day. The Potrzebie blog is run by Bhob Stewart, an author and editor with a background in sci-fi and horror, who also directed his own short film in 1961 called The Year the Universe Lost the Pennant.
Stewart gives more on his background with Emshwiller in this other Potrzebie post. The two met when Stewart was booking underground films at the legendary Charles Theater in NYC. The Charles is also where Jonas Mekas got his start as a film programmer in 1961. His experience there eventually led up to his creation of the Film-Makers' Cooperative, which, at the time of this writing, is facing eviction from it's current home in the Clocktower Gallery.
A book featuring Emshwiller's sci-fi artwork is available called Emshwiller: Infinity x Two, which also includes an overview of the career of Ed's wife Carol, a sci-fi writer. Emshwiller's films are not available on DVD, but they are available from the Film-Makers' Coop. Stewart's 1961 film is available from them, too.
But, who knew Jonas Mekas had a sci-fi background? I guess my suggestion that he direct Iron Man 2 wasn't so far-fetched.