2013 Spooky Movie International Horror Film Festival: Official Lineup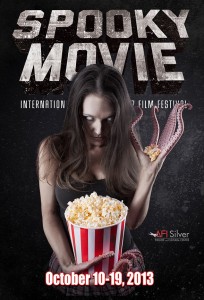 Get ready for 10 truly terrifying nights when Washington, D.C.'s Spooky Movie International Horror Film Festival haunts the AFI Silver Theatre on Oct 10-19 for the fest's 8th annual edition.
Things really jolt alive on the 10th with the Opening Night film Willow Creek, a surprising genre entry by comedian-turned-director Bobcat Goldthwait, who tells the tale about a couple of amateur Bigfoot hunters who get in way over their heads in the woods. Goldthwait will be on hand for a post-screening Q&A moderated by Film Comment's Laura Kern. Also playing on this opening night are a program of scary short films and the feature An American Terror, a post-Columbine fright flick by Haylar Garcia.
As for the other nine nights, sticking true to the "International" in the fest's name are movies such as the Ireland/France/Sweden co-production Dark Touch by Marina de Van about a young girl's link to the supernatural; Canada's reverse ghost story Haunter by Vincenzo Natali and starring Abigail Breslin; Australia's horror comedy 100 Bloody Acres by Colin and Cameron Cairnes; Britain's Art of Darkness by Steve Laurence; Israel's revenge thriller Big Bad Wolves by Aharon Keshales and Navot Papushado; Mexico's experimental zombie tale Halley by Sebastian Hofmann and more.
And there's plenty of American-made scares, too, including Geoff Klein and Melissa Mira's Pinup Girls on Ice (title mostly self-explanatory); Christopher Schrack's camping horror Backwater; Jay Stern's wicked seance Spirit Cabinet; Tyler Glot's Chupacabra attack Buck Wild; documentaries Dead Meat Walking: A Zombie Walk Documentary by Omar J. Pineda, and Bald Headed Blues: A Doctormentary on Sarcofiguy by C.W. Prather; and loads more.
Finally, the Closing Night film on the 19th is a special 40th anniversary screening of the blaxploitation classic Scream Blacula Scream starring William Marshall and Pam Grier. This special event will be hosted by local legend Count Gore De Vol who will do what he does best, chiefly hosting interactive intermissions with the audience and other fun stuff.
The full Spooky Movie International Horror Film Festival lineup is below. For more info and to buy tickets, please visit the fest's official website.
October 10
5:00 p.m.: "Spooky Shorts Showcase"
Antoine et les héros, dir. Patrick Bagot
Apartment 15, dir. Mattia Puleo
Hide and Seek, dir. Kayoko Asakura
O Coracao Que Falava Demais, dir. Paulo Biscaia Filho
Belly of the Wolf, dir. Mark Fisher
7:15 p.m.: Willow Creek, dir. Bobcat Goldthwait. An urban couple take a trip into the woods to find Bigfoot.
Screening with:
Happy Birthday, Mr. Zombie, dir. David Leclercq
9:40 p.m.: An American Terror, dir. Haylar Garcia. A bullied teenager plans to exact brutal revenge on his schoolmates, but he soon uncovers an even greater horror that he must defeat.
Screening with::
Refugio 115, dir. Ivan Villamel Sanchez
Maid of Horror, dir. Caitlin Koller
October 11
9:30 p.m.: Dark Touch, dir. Marina de Van. A young girl is the only survivor of a massacre that wiped out her entire family and nobody believes her tale that supernatural forces were behind the killings.
Screening with:
Air Conditions, dir. Ryan Oliver
Loo, dir. Stanislava Buevich
12:00 a.m.: Pinup Dolls on Ice, dir. Geoff Klein, Melissa Mira. Hired to perform at a remote campground, the ladies of a burlesque show are stalked by a murderer who uses ice for each of his kills.
Screening with:
Gundick: Cocked and Loaded, dir.Seager Dixon
Horrific, dir. Robert Boocheck
October 12
7:00 p.m.: Haunter, dir. Vincenzo Natali. A teenage girl discovers that she's actually a ghost who must confront an evil spirit that is able to possess the living.
The Girl, dir. John Hayes
Horror Show, dir. Darren Ormandy
9:30 p.m.: 100 Bloody Acres, dir. Colin Cairnes, Cameron Cairnes. Two brothers attempt to devise a new strategy to find victims to make into their popular "Blood and Bone" fertilizer.
Screening with::
The Hipster Werewolf, dir. Edd Benda
Thylacoleo, dir. Edward Lyons
12:00 a.m.: Thanatomorphose, dir. Éric Falardeau. A young woman discovers that her body is slowly rotting away.
Screening with::
Girl at the Door, dir. Colin Campbell
Bloody Birthday, dir. David Valdez
October 13
5:00 p.m.: Backwater, dir. Christopher Schrack. A couple camping in the woods believe they are in tremendous danger even though they can't explain what is causing their terror.
Screening with:
The Crossing, dir. Brandon Bentley
Her Window, dir. Thomas Colley
7:30 p.m.: Mortal Remains, dir. Christian Stavrakis, Mark Ricche. This "docu-thriller" profiles Karl Atticus, the filmmaker who is credited as the godfather of the slasher film.
Screening with:
The Holmes Run Monster, dir. Thomas Paradis
Implement of Death, dir. Jonathan Zuck
10:00 p.m.: Bald Headed Blues: A Doctormentary on Sarcofiguy, dir.: C.W. Prather. Meet John Dimes, aka Dr. Sarcofiguy, the popular horror movie host in this documentary about his life and career.
Screening with::
Show & Tell, dir. Joseph Pattisall
October 14
7:00 p.m.: Dead Meat Walking, dir. Omar J. Pineda. This documentary explores the modern phenomenon of "zombie walks."
9:00 p.m.: Sleeping Dogs Lie, dir. Bobcat Goldthwait. A young woman lives with the secret that she once performed an act of bestiality.
October 15
7:00 p.m.: Art of Darkness, dir. Steve Laurence. A woman accepts a modeling job from a psychotic photographer and needs to be saved by her estranged husband.
9:00 p.m.: World's Greatest Dad, dir. Bobcat Goldthwait. A father capitalizes on the death of his ungrateful son who was beloved by everybody else.
October 16
7:00 p.m.: The Spirit Cabinet, dir. Jay Stern. A female undercover reporter's true identity is threatened to be exposed by a ghostly presence summoned by a medium hosting a seance.
9:00 p.m.: God Bless America, dir. Bobcat Goldthwait. A divorced, unemployed and terminally ill loser decides to go out with a bang — namely by assassinating as many stupid people as he can first. Starring Joel Murray.
October 17
7:00 p.m.: Chastity Bites, dir. John V. Knowles. Legendary virgin killer Elizabeth Bathory currently makes her living as an abstinence counselor and a young teenage reporter is about to expose her.
9:00 p.m.: Shakes the Clown, dir. Bobcat Goldthwait. An alcoholic clown is framed for murder.
October 18
7:00 p.m.: Big Bad Wolves, dir. Aharon Keshales and Navot Papushado. The father of a murdered child and a vigilante police detective hunt for the killer.
Screening with:
Zombie!, dir. Paul Kell
Torturous, dir. Angus Swantee
9:40 p.m.: Halley, dir. Sebastian Hofmann. A zombie who works as a night guard befriends the manager of the gym where they both work.
Screening with::
'Til Death, dir. Jason Tostevin
Awake, dir. Francisco Sonic Kim
12:00 a.m.: Buck Wild, dir. Tyler Glodt. A groom's world is rocked when he learns that his fiancé is cheating on him and that a Chupacabra virus is turning people into the undead.
Screening with::
3:00 AM, dir. Lee Matthews
Polterghost, dir. Zack Ogle
October 19
9:30 p.m.: Scream Blacula Scream, dir. Bob Kelljan. The vampire prince Mamuwalde is brought back from the dead by voodoo. This special 40th anniversary screening of the blaxploitation classic will be hosted by Count Gore De Vol and include interactive intermissions and other special surprises.