2010 Spooky Movie Film Festival: Official Lineup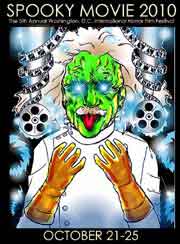 For the fifth year in a row, October gets a little creepier and scarier when the Spooky Movie Film Festival rolls into the Washington, D.C. area on Oct. 21-25 for six terrifying nights of of feature films and shorts.
Every year, Spooky Movie redefines the very definition of "horror" by presenting an absolutely unique selection films from all over the world. This year the bloody offerings range from backwoods horror comedies to documentaries to Norwegian and British zombie flicks to Australian monster movies and more.
Most exciting, however, is the return of the father of the splatter movie himself: Herschell Gordon Lewis, who will be screening his latest gore extravaganza, the diabolical The Uh-Oh Show!. This is Lewis' first gross-out flick in seven years and is an unholy combination of blood, social satire and fairy tales. The Underground Film Journal has seen it and thinks it's a real hoot and a holler.
Also on hand in the features department is Australian filmmaker Stuart Simpson's international hit monster movie El Monstro Del Mar!, which was recently reviewed to glowing acclaim on the Underground Film Journal. Plus, there's Eli Craig's insanely popular horror comedy Tucker & Dale Vs. Evil, the innovative ultra-low budget British zombie hit Colin, J.T. Petty's controversial torture documentary S&Man, the Chinese ghost story The Matrimony and more.
On the shorts front, there' Spooky Movie regular Brian Lonano's icky Martian Precursor, Aurelio Voltaire's DemiUrge Emesis, Paul von Stoetzel's Dinner Date and film historian Eric Krasner's original short The Nightmares of Edgar Allan Potato Head, just to name a few.
For all the fearsome goings on, please visit the official Spooky Movie website. Below is the full film lineup:
October 21
9:45 p.m.: Tucker & Dale Vs. Evil, dir. Eli Craig. Two peaceful hillbillies have the misfortune of being mistaken for chainsaw-wielding psychopaths by a group of college students on Spring Break.
Screening with:
Martian Precursor, dir. Brian Lonano (Watch online)
The Long Night, dir. Richard Williamson
October 22
10:00 p.m.: Colin, dir. Marc Price. A teenager wanders his nice suburban neighborhood looking for fresh flesh to eat after being turned into one of the undead during the zombie apocalypse.
Screening with:
Alice Jacobs Is Dead, dir. Alex Horwitz
Betania, dir. unknown
Broken Springs: Shine of the Undead Zombie Bastards, dir. Neeley Lawson. Toxic waste transforms the residents of a small rural town into cannibalistic monsters.
Screening with:
Aces and Eights, dir. Matt Allen
October 23
10:00 p.m.: El Monstro Del Mar!, dir. Stuart Simpson. A trio of sexy gals must do battle with a tentacled monster from the sea. (Read the review)
Screening with
Recollection, dir. Federico D'Alessandro
Dracula's Daughters vs. the Space Brains, dir. Frank Ippolito, Ezekiel Zabrowski
Doppleganger, dir. Micheline Durocher
The Brutalizer, dir. Kurtis Spieler
The Uh-Oh Show!, dir. Herschell Gordon Lewis. An investigative reporter starts stirring up trouble when she suspects that a hit TV game show is actually killing its contestants to get great ratings. (Read the review)
Screening with:
The Nightmares of Edgar Allan Potato Head, dir. Eric Krasner
Hymen, dir. Douglas James Burgdorff
Red Badger and Gillman, dir. Adam Bradley
October 24
12:00 p.m.: Everything's Eventual, dir. J.P. Scott. Based on the Stephen King novel, a teenager with special psychic powers is inducted into a shadow organization that wants to exploit his ability.
Screening with:
Suckathumb, dir. Xstine Cook
A Pain Like This, dir. Ian Fisher
March Hare, dir. Eric Laplante
2:00 p.m.: The Echo Game, dir. Brian Feeney. A young girl raised by her dead mother's lesbian lover becomes hunted by a diabolical scientist after it's discovered she has strong psychic abilities.
Screening with:
Zombies Take the School Yard, dir. James Tuverson
Seventy Percent, dir. Scott Campbell
The Auburn Hills Breakdown, dir. Geoff Redknap
4:00 p.m.: Every Other Day Is Halloween, dir. C.W. Prather. This documentary profiles Count Gore DeVol, Washington, D.C.'s beloved horror TV host who became a worldwide phenomenon after taking his act to the Internet. (Read the review)
Screening with:
The Necronomicon, dir. Joseph Nanni
After Hours, dir. Marshall Fels Elliott
Twilight Sucks, dir. Tom Small
6:00 p.m.: Dark Souls, dir. César Ducasse, Mathieu Peteul. A young woman who's been murdered returns home to live with her father. (Streaming Online)
Screening with:
The Baby Shredder Song, dir. David Avallone
DemiUrge Emesis, dir. Aurelio Voltaire
Rise of the Appliances, dir. Rob Sprackling
8:00 p.m.: S&Man, dir. J.T. Petty. Horror filmmaker Petty investigates the world of underground horror and meets an unusual man who makes some very disturbing movies. (Read the review)
Screening with:
By Her Hand, She Draws You Down, dir. Anthony G. Sumner
Night of the Punks, dir. Dan Riesser
Dinner Date, dir. Paul von Stoetzel
St. Christophorus: Roadkill, dir. Gregor Erler
October 25
9:30 p.m.: The Matrimony, dir. Hua-Tao Teng. In 1930s Shanghai, a young man is devastated when his longtime girlfriend is killed in a car accident. Although his mother encourages to marry another woman, he's still haunted — literally — the ghost of his former lover.
Screening with:
Written By, dir. Karni Baghdikian
The Furred Man, dir. Paul Williams
The Violinist, dir. Carlo Besasie