Underground Film Streaming Guide
Feature Article
September 19, 2014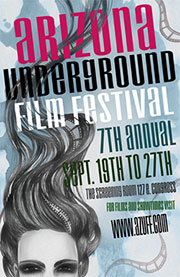 The 7th annual Arizona Underground Film Festival will screen a smorgasbord of cult flicks, horror movies, comedies and provocative documentaries on September 19-27 at The Screening Room in Tucson, AZ.
Opening Night: The fest kicks off on the 19th with Killers, a dark thriller all the way from Japan and Indonesia about a psychopath and a journalist who forge an unlikely, hellish bond.
Continue Reading 2014 Arizona Underground Film Festival: Official Lineup
Screenings

August 24
8:00 p.m.
Echo Park Film Center
1200 N. Alvarado Street (@ Sunset Blvd)
Los Angeles, CA 90026
Hosted by: Echo Park Film Center
The teen comedy genre gets a surrealist twist in the impressive debut feature What I Love About Concrete by co-directors Katherine Dohan and Alanna Stewart, and co-conspirator Brett Hanover. Dohan will be in attendace for a post-screening Q&A.
A teenage girl wakes up one morning to discover that she is slowly transforming into a swan, making her high school experience all the more awkward and confusing.
Continue Reading Echo Park Film Center: What I Love About Concrete
Online Cinema
September 9, 2014
A trip to hell and back is recounted in Greta Snider's classic underground short film, Portland. Living the ultimate punk lifestyle, a group of friends relive the disaster that was hopping the rails from California to Portland, crashing at a not-so-abandoned house and fighting to reclaim their belongings.
Underground Notes