Wolstencroft's Diversion Notice Upheld!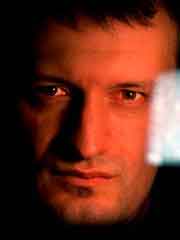 Harassed director of the Melbourne Underground Film Festival, Richard Wolstencroft, has Tweeted and posted on his Facebook wall that his Diversion Notice was "held and accepted" by Magistrate Luisa Bazzani on Wednesday in Melbourne, Australia. Wolstencroft had been charged for screening an "obscene" movie in defiance of the government's Office of Film and Literature Classification board.
Down Under, a Diversion Notice can be offered to first time offenders so that felony charges do not appear on the defendant's record and that the only real penalty is a modest fine. In Wolstencroft's case, he has been ordered to make a donation to charity.
Wolstencroft's harassment dates back to the 11th annual Melbourne Underground Film Festival, which was held at the end of August 2010. On the 29th of that month, MUFF held a secret screening of Bruce LaBruce's homoerotic horror movie L.A. Zombie, which had been labeled as unclassified by the  OFLC. In Australia, unclassified films are illegal to screen publicly.
While that screening went off without a hitch, detectives searched Wolstencroft's home for copies of the film three months later in November. Although the festival director had destroyed his copy of the film after the screening, he was subsequently charged with disobeying the OFLC, of which that case is now settled.
Inspired by his recent troubles, Wolstencroft has decided to expand his annual film festival into a series of screenings of controversial work held throughout the year. These events have been dubbed "Mystery MUFF" since the announcement of the films selected to screen at them won't be given until relatively close to the actual screening date.
The film playing at the first Mystery MUFF, which will be held Sunday, Feb. 27 at 7:30 p.m. at the Red Bennies performance and screening space, will be — appropriately enough — a documentary about Bruce LaBruce directed by Angelique Bosio entitled The Advocate of Fagdom.