2006 WNDX Underground Film Festival: Official Lineup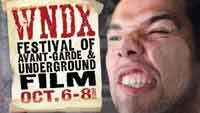 WNDX is a brand new underground fest. Held in Winnipeg, it expands the lineup of Canadian underground film festivals in major cities — after Calgary; Victoria, BC and Montreal. (Hey, where's Toronto?) Anyway, WNDX will run Oct. 6-8 and it's another "shorts only" festival, showing mostly works by Canadian filmmakers only, except for a few Austrian films. Founded by five filmmakers — Cecilia Araneda, Jaimz Asmundson, Walter Forsberg, Solomon Nagler and Carole O'Brien — their mission statement reads:
Winnipeg houses one of the most unique film creation cultures in the world and is internationally-renown for its production of eclectic and experimental — and principally short — works. WNDX is designed as a specialized, on-going programming effort to showcase this film language and contextualize it within the greater Canadian and international stage, and to foster the creation of new works.
Even though this is only three nights of films, they are only screening shorts, so it's a pretty extensive lineup. If you want to see what's playing and for more info, follow the link:
Friday, Oct. 6, 7 pm – New Prairie Cinema Showcase – Program I: Horizon
Damaged Goods, dir. Don Best
Winter, dir. Brenna George
Retreat, dir. Val Klassen
I've Never Been Outside, dir. Terryll Loffler
Unfinished Passages, dir. Brett Kashmere
Asleep at the Wheel, dir. Mike Maryniuk
SASKATCHEWAN 08.04, dir. Collin Zipp
Anticipation, dir. Adam Budd
just go home, dir. Graham Ududec
Another Lost Soul, dir. Lyle Pisio
Friday, Oct. 6, 9 pm – Ends with "A": Optical Printer Masterworks from Canada & Austria
Colour Separations, dir. John Kneller
passage à l'acte, dir. Martin Arnold
Variations on a Cellophane Wrapper, dir. David Rimmer
Tito Material, dir. Elke Groen
The Evil Surprise, dir. François Miron
Adebar, dir. Peter Kubelka
We Are Experiencing Technical Difficulties…, dir. John Kneller
Sammy, dir. Louise Lebeau
Instructions for a Light and Sound Machine, dir. Peter Tscherkassky
Saturday, Oct. 7, 7 pm – Landscape Gestures: New Works of Canadian Experimental Cinema
Circumvisions, dirs. Marie-France Giraudon and Emmanuel Avenal
The Architect, dirs. Rick Fisher and Don Rice
Cinema and Visual Pleasure, dir. Annie MacDonell
Sur le Mur, dir. Anne-Michèle Fortin
Chiasmus, dir. Daichi Saito
930, dir. Alexandre Larose
Saturday, Oct. 7, 9 pm – Sensory Overload: Recent Canadian Underground Film
The Milkman, dir. Ken Takahashi
It's a Boy, dir. Adam O. Thomas
Piss, dir. Panos Cosmatos
Aspiralux, dir. Izabel Grondin
Parasite, dir. David Zellis
Going to the Big C (Don't Mean California), dir. Kick Jaxon
Gary's Touch, dir. Ken Takahashi
Sunday, Oct. 8, 7 pm – New Prairie Cinema Showcase – Program II: circumscription/circumscribe
Party Mix for One, dir. Liz Garlicki
Grey Sweater, dir. Dave Twigg
The Calling, dir. Kari McQueen
Crazy, dir. cam bush
Patience, dir. Mike Rollo
Mother-Daughter: Together but Separate, dir. Divya Mehra
24 Hours, dir. Theodore Turner
The Cat's Pyjamas, dir. Shawn Fulton
Sunday, Oct. 8, 9 pm – One Take Super 8 Event
A select group of filmmakers have been given the opportunity to shoot a short film on just one reel of Super 8 film with absolutely no editing allowed. Tonight's screening will be the first time the filmmakers and the audience alike will see these short films.
All screenings, except the One Take Super 8 Event, will take place at the Cinematheque theater, which is on the main floor of Artspace on 100 Arthur Street. The One Take screening will be held at the Graffiti Gallery at Gomez at Higgins. There will also be parties held every night at 11 p.m. in the area.
There will also be two sidebar events. Saturday at 1 to 5 p.m. will be John Kneller's Optical Printing Master Class; and Sunday at 2 to 4 p.m. will be screenings of Super 8 Home Movies. Want your home movie screened? Bring it on in!
For much more information, please visit the WNDX Underground Film Festival website.