Who Was Underground In '67?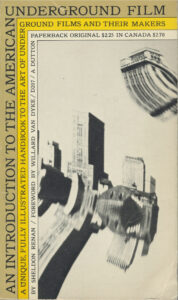 So, I'm currently working on a big research project, the results of which won't be seen unless you happen to be poring through the Underground Film Journal's sister site the Underground Film Guide — and the way that site is woefully under-updated, why would you? [NOTE: The Journal dissolved the Film Guide a few years ago and blended its content into this site.]
The UFG, as I like to call it, is a database project of underground filmmakers and films. Recently I decided to halt adding new entries and to make the old filmmaker entries I previously uploaded more comprehensive. One way I'm doing that is going through books on underground film and, if a filmmaker is written up in each book, I'll add that book's info to the filmmaker's profile. If you're interested and want an idea of what I'm talking about, go look at John Waters' entry and scroll down to the book section.
One book that is a tremendous source of information is Sheldon Renan's awesome An Introduction to the American Underground Film, which was published by E. P. Dutton & Co. in 1967. (Previously reviewed by me here.) The book is broken up into several helpful parts, such as defining underground film, providing a brief history of the underground film in general, examining the then new concept of expanded cinema and, most interestingly, a gallery of bios of underground filmmakers.
Renan doesn't claim that his gallery is a comprehensive list of all the underground filmmakers working at the time, but it's a good collection of names and I thought it might be of interest to Underground Film Journal readers to see who he included. So, I made a list of the names in the gallery and that's it pasted below: You got your filmmaker's name, birth info and the pages each bio appears on.
As I said, this isn't meant to be a comprehensive list of every underground filmmaker working in 1967 and there are several glaring omissions. First, Renan was a bit unkind to the ladies. The only woman filmmaker on the list is Marie Menken. A bit strangely, I think, is that Renan didn't include Maya Deren nor Shirley Clarke. Yes, Deren had been dead for many years, but Ron Rice had also passed away and he made the cut. Clarke, who was alive and well and a significant figure on the scene, is just a sad omission. (Clarke and Deren are mentioned in the book, they just don't have gallery pages.)
Other significant figures who could have been included, but weren't — that I can think of at least — are: Hollis Frampton, Paul Sharits, James Broughton, Chick Strand, Warren Sonbert, Storm de Hirsch, Michael Snow and Carolee Schneemann.
But, I don't want to bust on Renan too much about who he didn't write about because the book is really a great reference source. So, without further ado, here is Renan's list:
Kenneth Anger
Born: 1932, Santa Monica, California
(pp. 106-112.)
(Anger was actually born in 1927.)
Bruce Baillie
Born: 1931, Aberdeen, South Dakota
(pp. 112-116.)
Jordan Belson
Born: 1926, Chicago, Illinois.
(pp. 116-118.)
Stan Brakhage
Born: 1933, Kansas City, Missouri
(pp. 118-127.)
Robert Branaman
Born: 1933, Wichita, Kansas
(pp. 127-129.)
Robert Breer
Born: 1926, Detroit, Michigan
(pp. 129-133.)
Rudy Burckhardt
Born: 1914, Switzerland
(pp. 134-135.)
Bruce Conner
Born: 1933, McPherson, Kansas
(pp. 136-138.)
Tony Conrad
Born: 1940, Concord, New Hampshire
(pp. 138-140.)
Carmen D'Avino
Born: 1918, Waterbury, Connecticut
(pp. 140-143.)
Ed Emshwiller
Born: 1925, Lansing, Michigan
(pp. 143-145.)
Peter Emanuel Goldman
Born: 1939, New York, New York
(pp. 145-147.)
Ken Jacobs
Born: 1933, New York, New York
(pp. 147-153.)
Larry Jordan
Born: 1934, Denver, Colorado
(pp. 153-156.)
Stanton Kaye
Born: 1943, Los Angeles, California
(p. 157.)
Mike and George Kuchar
Born: 1942, New York, New York
(pp. 157-161.)
George Landow
Born: 1944, New Haven, Connecticut
(pp. 161-163.)
Gregory Markopoulos
Born: 1928, Toledo, Ohio
(pp. 164-167.)
Jonas Mekas
Born: 1922, Semeniskiai, Lithuania
(pp. 167-169.)
Marie Menken
Born: 1910, New York, New York
(pp. 170-171, 172.)
Robert Nelson
Born: 1930, San Francisco, California
(p. 171, 173-174.)
Ron Rice
Born: 1935, New York, New York
(pp. 175-178.)
Harry Smith
Born: 1923, Portland, Oregon
(pp. 178-180.)
Jack Smith
Born: 1932, Columbus, Ohio
(pp. 181-183.)
Stan Vanderbeek
Born: 1931, New York, New York
(pp. 184-190.)
Andy Warhol
Born: 1928, Forest City, Pennsylvania
(pp. 191-195.)
(Renan mistakenly lists birthplace as Newport, Rhode Island)
Buy An Introduction to the American Underground Film on Amazon!