Filmmaker Waylon Bacon And Lou Rawls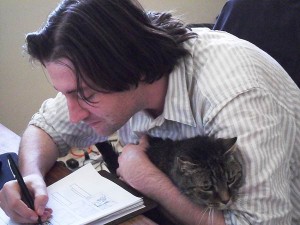 Waylon Bacon says:
I've had three cats now, and each one was an accident. My first cat, Max, was given to me to hold onto until a friend got back from New Orleans. I'd just had my wisdom teeth yanked out, and bonded with him while doped up on Vicodin. Upon returning, my friend didn't want the cat anymore, and I ended up with Max as a non-contributing roommate for the next four years. I now find myself with another two which came with my girlfriend. One of them is insane (she reminds me of Catherine Deneuve in Repulsion), but the other, Lou Rawls, is very chill, and often sits in my lap while I work on storyboards.
I am currently putting together my first Indiegogo campaign for a short film that has nothing to do with my cat, who currently would like his litter box cleaned.
Underground Film Journal says:
Waylon Bacon makes exceptionally grotesque and hilarious short films, almost all of which are streaming online and are must see films. Our favorites include the epic and original Help Wanted and the sort-of anti-smoking flick Poster Boy. Waylon has a totally unique vision and voice that we've been preaching about for years. Click the film titles to watch these amazing films.
His most recent project was the haunting music video "Life Without Skin" by the Lumerians, which we interviewed him regarding the making of.
Submit: If you're a filmmaker and you love your cat companion, please send us a photo of you with your kitty.
More Cats: View our entire gallery of Filmmakers and Their Cats!