Watch Now: The Making of Damon Packard's Reflections Of Evil
This is an old behind-the-scenes video for a TV pilot on the making of Damon Packard's underground film classic Reflections of Evil. It stars Mark Borchardt and Mike Schank, capitalizing on their fame from the hit documentary American Movie. The official description of this video says its been edited down from its original version, which may explain why it focuses more on Borchardt than on Packard. Still, for fans of Packard's work, or for those who need to be introduced to it, it's an interesting little peek into his world.
While the Underground Film Journal has never formally reviewed Reflections of Evil — which is mighty stupid on our part — we did choose it for one of our Most Outrageous Moments in Underground Film. The way Packard transformed the Universal Studios and Knotts Berry Farm theme parks into "Schindler's List: The Ride" is a moment of pure guerrilla filmmaking genius.
The above video doesn't get into that and instead mostly focuses on a Chinatown-set fight scene and the nightmare sequence involving Chewbacca standing in for Sasquatch. (And was Borchardt even on set? This is edited so it appears he wasn't, despite his voice seemingly interviewing crew members.) It's also difficult to tell from the video what Reflections of Evil is actually about, although admittedly it's a difficult film to describe. It's sort of a stream of consciousness horror movie about an obese watch salesman slowly losing his grip on reality so that he begins either hallucinating or actually seeing the ghost of his dead sister at an amusement park in limbo.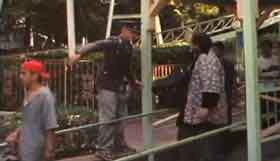 Reflections of Evil is a true underground film as it's never been traditionally released, either through circumstance or design by Packard. He self-distributes it on DVD, if one can track down one of his constantly shifting websites, and he's uploaded various versions to YouTube, none of which appear to have a proper ending. You can now watch the full, official version of Reflections of Evil online.