Watch Now: The Beaver Trilogy Clips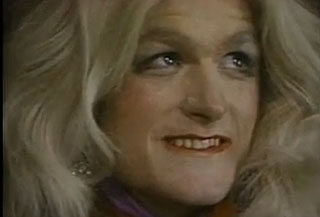 The two video clips I've embedded below are clips I'm a bit uncomfortable throwing up, for two reasons. One: I believe these clips have been uploaded without the express permission of the filmmaker. Two: I'm not entirely sure the clips will succeed on their own separated from the surrounding film. However…
What I really can't believe is that I have never written about The Beaver Trilogy by Trent Harris on the Underground Film Journal before. I caught this little gem at the New York Video Festival back in 2000 (I think) and bought a VHS copy from Trent's website almost immediately. I'm actually almost at a loss at how to describe this masterpiece, which is, quite frankly, one of the greatest films ever made. That it's so hard to get a hold of is a crime against the culture at large. For years, I even thought it was lost forever when Trent's website either went down or the links broke or something happened. That would have been one of the saddest losses to film history ever.
Here's the basic setup of the film: As a local Utah news cameraman, Trent ran into a dude, known only as Gary who, as a lover of impersonations, invites Trent to videotape a talent show in the town of Beaver. At the performance, Gary transforms himself into "Olivia Newton-Don" with full make-up and hair and everything, and does a very weak impression of the Australian singer. That's Part One.
Part Two is an unfinished recreation of Trent's encounter with Gary that Trent shot in Los Angeles a few years later starring a very young Sean Penn, which the actor began just before he was to star in Fast Times at Ridgemont High. Penn left the project part-way through to go star in his breakout role as Jeff Spicoli.
Finally, Part Three is a finished short film and a second recreation of Gary's story that's actually called The Orkly Kid. It's a really great short film in and of itself, but it's mostly memorable for the second actor who portrayed Gary: Crispin Glover, which he shot at around the same time as Back to the Future.
The original Gary is such an original character, one that's impossible to forget — believe me, I can't and it's been years — that just the original footage of him is classic all by itself. But then for Trent to get two such extremely different actors, and two future superstars just as they were about to appear in their breakout roles, is a feat that's virtually unbelievable.
As I said, Trent's website is back up with info on how to acquire a copy. I suggest all who read this, go do that right now. You won't believe this movie when you watch it.
Now for the video excerpts embedded below. The first is a performance from the original Groovin' Gary. This is not the infamous Olivia Newton-Don song, but a subsequent performance, and a Barry Manilow impression of "New York City Rhythm." Now, I believe this was shot because Gary was a little embarrassed by appearing in drag and wanted to do something where he looked straight in Trent's original film:
Next, this is Crispin Glover doing his Olivia Newton-Don thing from The Orkly Kid. And if this doesn't convince you that you need to see this film now, then you're just dead inside, man: