Feature Film Online: Immokalee, U.S.A.
UPDATE: You can now watch this film streaming on Amazon.
Immokalee, USA., the documentary about a migrant farming community in Florida that was directed by Georg Koszulinski, made the short list for the Underground Film Journal's 2008 Movie of the Year. Quite simply, it was one of the most beautiful documentaries I've ever seen. And now, you can watch it in it's entirety courtesy of the Documentary Channel. That's it embedded above and, if it's not obvious yet, I highly recommend it.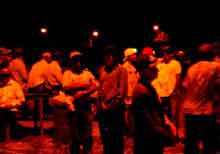 The film follows the lives of several inhabitants of Immokalee, FL. We meet some of the field workers — but they're mostly off working — but we really get to know their families, the women who stay at home to raise the kids or work other jobs in the community while doing the majority of the child-rearing. There's also the kindly church woman who runs a food bank, a gringo farmer who shares a perplexing perspective, and others.
Most memorable of all, though, is the tale of Mateo Diego, a broken-down soul who isn't allowed to work the fields. Mateo suffers an overwhelming depression from being cut off from his family back home and is unable to make a living for himself in the "land of opportunity."
Read the Underground Film Journal's full review of Immokalee, USA.