Feature Film Online: Damon Packard's SpaceDisco One
Ladies and gentleman, presenting the grooviest sci-fi movie ever made! It's SpaceDisco One, a Bob Ellis Production of a Damon Packard film.
What do you get when you cross a remake of 1984 — '84 John Hurt edition — with a sequel to Logan's Run and toss in references to the original Battlestar Galactica, Galactica 1980, Blade Runner, Fox News, backyard wrestling videos, Big Brother the British TV show, Dateline NBC's "To Catch a Predator," Krull and the NeverEnding Story? Well, if you're Damon Packard, you get about 45 minutes of sheer awesomeness.
Packard recently uploaded the entire film to YouTube. It's in four 10-minute chunks and one 5-minute chunk, but since I collected them all using YouTube's playlist feature, if you click the video above, it'll play relatively seamlessly all the way through. I originally saw the film at a special screening about a year ago and I only meant to watch the first chunk to test it's quality, but I got sucked right in and watched the entire thing again. I absolutely love this film. And the upload quality is fantastic. Make sure you watch it at full screen.
SpaceDisco One is guerrilla filmmaking at its finest with a totally genius use of actual locations to represent a futuristic landscape. You know how like in Logan's Run, they wander through a mall in the first half of the film and they act like it's an advanced future society, but it really just looks like a mall with some sparkly decorations dangling off the escalators?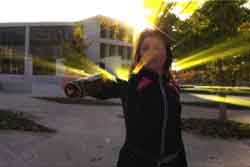 Packard recreates the low-budget version of that. Instead of an indoor mall, he dresses his actors up in crazy looking uniforms and then sets them loose in Universal City's Citywalk in Los Angeles to mingle with the tourists. Then these poor guys have to chant at a big screen TV and hang out at a doofy oxygen bar and pretend they're air traffic controllers. It's mind-bogglingly surreal.
But, my personally favorite scene is in the roller rink where Logan 7 and Stargirl chase another actress dressed up like Pris from Blade Runner around a roller skating rink, shooting their toy laser guns at each other while the other skaters in the rink look on in bewilderment. No, Packard didn't film while the rink was closed. He just filmed during regular business hours. Honestly, this just looks like it was one of the funnest movies to work on ever.
The '70s disco music, the starburst special effects, the breaking of the fourth wall regarding the making of the movie we're watching, the girls chasing each other around the campus of the Parsons school of design, Winston getting shocked by a baby toy, the dizzying references to "To Catch a Predator," Big Brother and a dozen other sources– There's really nothing not to love about this movie.