Watch: Jack Smith Restored Film Clips
On Feb. 11, 2012, the Microscope Gallery in Brooklyn, New York screened long lost films by iconic and hugely influential underground filmmaker Jack Smith. This footage has been restored by Jerry Tartaglia and Daniel Feinberg, and was funded by the Barbara Gladstone Gallery.
In the above video, first you'll have to wade through two intros by Film-makers' Cooperative director MM Serra and Coop founder Jonas Mekas who were on hand for a special celebration honoring the 50th anniversary of the Coop. Then, the Smith footage is very brief, but absolutely gorgeous to behold. Seeing these in person must have been an incredible treat at this event.
And it's worth it to listen to some important underground film history by Mekas about his early relationship with Smith. Eventually, they would have a falling out over Mekas' distribution of Smith's classic film Flaming Creatures.
However, Mekas discusses here their early relationship when he briefly hired Smith as a ticket taker at the Charles Theater at Ave. A and 8th Street. Smith, being the artist that he was, didn't quite have his mind on the job and was instead busy planning his shoot for Flaming Creatures.
Someone in the audience at this screening also asks what Jack's lasting influence has been where Mekas gives a great response about Smith's contribution being his unique, fantastical vision.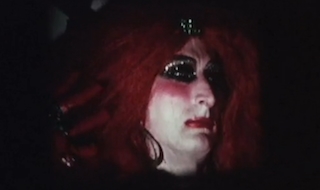 For those who only know Smith's work through Flaming Creatures, which was shot on washed out, discarded film, might be taken aback by the beautiful color footage from his other movies seen in the above video.
According to Laura Major, the project manager at the lab where Smith's films were restored, the clips in the above video come from the films, in order, Scotch Tape, Hot Air Specialists, Song for Rent and the last is probably Yellow Sequence or possibly Respectable Creatures.
Those films and more are now available for rent through the Film-makers' Coop. The full list of the films that have been restored are:
Scotch Tape (1962) 16mm, color, 3 min
Overstimulated (1960) 16mm, black and white, 3 min
Respectable Creatures (1967) 16mm, color, sound, 25 min
Hot Air Specialists (1970's) 16mm, color, 4 min
Song for Rent (1970's) 16mm, color, 4 min
Yellow Sequence (1963–65), 16mm, 15 min