War Is Not a Game…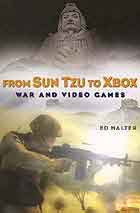 …Unless of course, it's a video game.
Former New York Underground Film Festival head honcho and all around underground film know-it-all, Ed Halter has written a book about the connection between gaming and war, From Sun Tzu to XBox
.
From the book's official promotional website:
From Sun Tzu to Xbox is a definitive history of the longstanding relationship between games and military culture, from wargaming's roots in ancient civilizations, to the Cold War development of computing for battle, to a recent crop of Pentagon-funded shoot-'em-ups, big-budget commercial titles and homemade hacks.
The book is available now (Amazon link here
), but there will be a release party in NYC on Thursday, June 15. If you're in town, go (I would):
Thursday, June 15, 2006
6:30-8:30pm

The New Museum Store
556 W 22nd Street
New York, NY 10011
Ed kept a great and informative blog about the book at War and Video Games.